My Bradley Instructor was Right about Delayed Cord Clamping?
22 years ago, during our Bradley childbirth class, I remember our instructor teaching us about some crazy idea called delayed cord clamping. At the time I didn't even know it was a thing. But we listened and begged our OB to delay the clamping of baby's umbilical cord at birth. I think he did – maybe for 10 seconds or so. Just to humor us; not because he wanted to.
Our next baby shot out onto the floor; cord snapped. He's fine, and that's another story for later.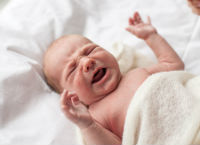 Third baby, we banked his cord blood, which I'm glad we did. BUT, that also meant early cord clamping.
So, a new study in Pediatrics shows significant anti-oxidant benefits (reduced oxidative stress) for healthy, full-term babies whose umbilical cords were allowed to continue to pulse for two minutes compared to those who were cut at 10 seconds after birth. 64 mother/infant pairs were studied.
Midwives Have Known it All Along
Midwives and natural childbirth educators have been teaching delayed cord clamping for a millennia. But it fell out of favor several decades ago over fears of babies getting too much blood from mom. Now, the World Health Organization recommends delayed clamping again, but ACOG and the AAP aren't quite ready to make an official change in policy. Not sure what's holding them back. They are probably trying to figure out how to come out in support of delayed clamping without making it look like they are saying (apologetically), "Midwives and Bradley instructors – you were right all along!"
-Dr. Bob
For more information on other topics related to cord clamping check out The Healthy Pregnancy Book from The Sears Parenting Library.
Follow Dr. Bob Sears on Facebook to see his Dr. Bob's Daily Blog – everyday.
Source:
http://www.medicalnewstoday.com/articles/287041.php