One of my favorite parts of the holiday season is taking advantage of the chance to give back to others, and this year I'm focusing on how to help families and babies experiencing diaper need.
Diaper need is a much more present issue than most individuals realize. In the recent study, Diaper Need and Its Impact on U.S. Families, Huggies and the National Diaper Bank Network found that one in three (36%) families experience diaper need, or the struggle to provide enough diapers to keep their baby or toddler clean, dry and healthy. Having a sufficient supply of diapers is essential for baby's health and well-being, especially because it helps protect baby's sensitive skin. In addition, diapers are often required by childcare, day care or early education programs and without them parents cannot drop off their children which is why three in five parents miss work or school due to a lack of a sufficient supply.
This is why, this holiday season, I am shining a spotlight on the National Diaper Bank Network as a resource for families that might be struggling with diaper need. Since 2011, they have grown from 40 to over 300 banks. These diaper banks around the country provide much-needed help for those in their local area, and with help from their founding sponsor, Huggies, they are making a difference in the lives of families in need. Over the past 6 years, Huggies has donated over 200 million diapers and wipes to the National Diaper Bank Network, and you can help donate more this holiday season by donating your Huggies Rewards Points at Huggies.com/NoBabyUnhugged.
If you want to get involved in your community, you can visit nationaldiaperbanknetwork.org/members to find your local diaper bank and donate your money, time or diapers. Or, you can help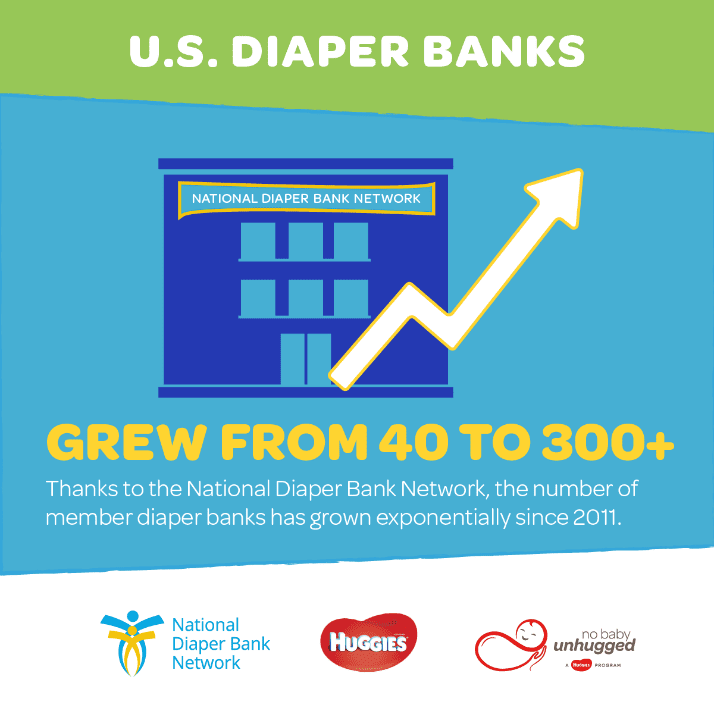 host a diaper drive with your neighbors, friends and family.
Giving back together is a truly a wonderful way for families to bond and grow together – especially for little ones. As we enter the holiday giving season, I hope you will take the opportunity to give back, whether that is having a family diaper drive, volunteering at the local food bank or collecting toys, and give back to other families while bonding with yours.