Sleep Apnea Resulting in ADHD
When 10-year-old Liran first came into our doctor's office, the consultation was initially for "ADHD," which he did not have because his brain wasn't the issue. Within the first few minutes of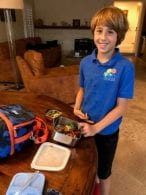 examining him, I said to his mother, "Liran's learning and behavioral problems begin in his mouth, not in his brain." His persistent mouth breathing was the clue to me that he had partial airway obstruction (plugged nasal passages and a small jaw) and OSA (obstructive sleep apnea) which greatly hampered his learning. These medical conditions can impact sleep, which can cause ADD. Many parents don't connect sleep apnea and ADD. An often overlooked hidden and sometimes the root cause of ADHD.
This is the story that Liran wrote Dr. Bill! After 4 months of dental widening, using an oral appliance, his breathing passages, his sleep improved, and his ADHD went away. [Read Liran's Story]

Dr. Sears, or Dr. Bill as his "little patients" call him, has been advising busy parents on how to raise healthier families for over 40 years. He received his medical training at Harvard Medical School's Children's Hospital in Boston and The Hospital for Sick Children in Toronto, the world's largest children's hospital, where he was associate ward chief of the newborn intensive care unit before serving as the chief of pediatrics at Toronto Western Hospital, a teaching hospital of the University of Toronto. He has served as a professor of pediatrics at the University of Toronto, University of South Carolina, University of Southern California School of Medicine, and University of California: Irvine. As a father of 8 children, he coached Little League sports for 20 years, and together with his wife Martha has written more than 40 best-selling books and countless articles on nutrition, parenting, and healthy aging. He serves as a health consultant for magazines, TV, radio and other media, and his AskDrSears.com website is one of the most popular health and parenting sites. Dr. Sears has appeared on over 100 television programs, including 20/20, Good Morning America, Oprah, Today, The View, and Dr. Phil, and was featured on the cover of TIME Magazine in May 2012. He is noted for his science-made-simple-and-fun approach to family health.