Dr. Bob's definitive guide: The Autism Book
Autism has become one of the most widespread childhood epidemics in recorded history. Except for some infectious disease epidemics of the past, no other serious condition has ever affected 1 in 36 children (1 in 28 boys) - the latest CDC numbers released in 2017. What makes it so devastating for parents is that autism seems to strike unexpectedly out of nowhere; a healthy and neurologically normal infant can suddenly regress into autism between age 1 and 2. Some toddlers don't regress; they simply stop progressing through normal social and language milestones. Some infants seem to be born with autism, displaying some characteristics right from the start that eventually lead to a diagnosis.
We don't yet know what causes autism. There are many theories, yet with all the research currently underway we are still far from answering this question. We do, however, know a great deal about how to treat autism and how to help children recover. That is what The Autism Book is all about.
If you are the parent of a child newly diagnosed with autism or have a child with borderline development whom you worry may be at risk for autism, I will show you how you can best help your child minimize future developmental challenges. If you are a new parent with a healthy baby, I will show you what factors may possibly increase a baby's risk of developing autism and how you can best minimize these risks.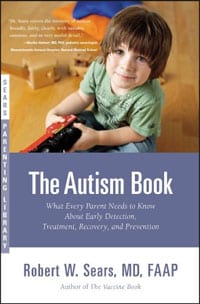 Early recognition and intervention are perhaps the most important aspects of successful autism treatment. Waiting until a child's minor developmental delays are diagnosed as autism before treatment is initiated does that child, and his family, a great disservice. In Chapter 1, I explain all the signs and symptoms of autism so you can make a diagnosis (or at least develop a suspicion) at the earliest possible age and early intervention can begin.
There are many developmental and behavioral therapy approaches that have been proven effective in the majority of children with autism. These include speech and language therapy, occupational and sensory integration therapy, applied behavioral analysis therapy, social developmental therapy, and several others. I discuss these treatments in detail in Chapter 6 and show you how to access them so you can begin your child's recovery. I also discuss certain psychiatric and behavioral medications that have been shown to decrease some symptoms of autism and improve behavior and learning.
There are also a number of medical, nutritional, and vitamin-based treatments that have been shown not only to improve symptoms, but to address some of the possible underlying medical and biological causes of autism. Together, these treatments are called the biomedical approach. Although the biomedical treatments may appear unproven or alternative, they are based on solid scientific principles, as I will demonstrate to you. Many of the treatment steps in the biomedical approach can be done without a doctor's prescription, and in Part IV, I show you how to start your child safely on these treatments with support from educated parents in your area. I will also explain how to find a biomedical doctor, or how to approach your own pediatrician or family doctor, so you can try some of the prescription treatments.
Underlying all of these treatment options remains the question of causation. There are two main schools of thought: The most common theory within the mainstream medical community holds that autism is caused by a combination of genetic susceptibility and environmental toxic exposure. The biomedical community believes this as well, but we also suspect that there is more to the picture. We believe that there are a number of medical, nutritional, allergic, and infectious conditions that can also contribute to autism. In Chapter 5, I explain how you can have your child medically tested to look for the variety of possible causes.
I have been learning about biomedical treatments for autism since 2000. I have helped over 500 families begin this approach and have personally witnessed fantastic results. But these ideas are not yet accepted by the general medical community as legitimate treatments for autism. There is already some good research that supports these biomedical protocols, but many more years of study need to be done before they become part of mainstream medicine and get taught in medical schools. The biomedical treatment approach does not help every child. In my experience, I have seen children recover to the point where they are virtually "normal." I have also seen children improve to the extent that most people do not notice anything is unusual about them; there might be some minor "quirks" still apparent to some observers. Some children who follow these treatments only show minor improvement. And I have had a few patients show no improvement at all. Every year we learn more and more about the biomedical approach. New treatments are discovered, current ones are refined, and older treatments are proven. Some treatment ideas don't pan out and are discarded.
Because most biomedical treatments are not FDA approved for the treatment of autism, many parents would naturally worry about their safety. In my opinion, all of the treatment options that I discuss in this book that do not require a prescription are safe. They involve nutritional supplements, dietary changes, and natural treatments that anyone can do without a doctor's involvement. On the other hand, there are some prescription treatments in the protocol that do have an element of risk (just like all prescription treatments in any area of medicine). These can (and should) only be done under the careful guidance of a physician.
Even though mainstream medicine does not endorse the biomedical approach, the powers that be have taken notice and expressed some interest. The American Academy of Pediatrics has met with the leaders of Defeat Autism Now organization, as well as other biomedical groups, to discuss the protocol. The AAP also sends representatives to biomedical conferences to listen to the information. As a long-time member of both the AAP and Defeat Autism Now, I hope to see this relationship blossom into a partnership someday soon.
Because the biomedical approach targets treatable causes of autism, this raises the possibility of autism prevention. If we know (or suspect) what is causing autism, theoretically we should be able to lower the risk of autism by limiting and avoiding these causes. This is useful information for every new baby, and it is even more critical for any baby born with an older sibling with autism who already has the genetic cards stacked against him. In Chapter 14, I explain how you can limit these possible causative factors during pregnancy, infancy, and young childhood as best as you can and lower your childrens' risk of autism.
Autism leaves families feeling isolated and overwhelmed. You can't do this alone. You must have support from other parents who are also going through this. My favorite parent support organization is TACA – Talk About Curing Autism – at www.TACAnow.org. Throughout this book I suggest specific areas in which your local TACA group can help you navigate through the various aspects of your child's treatment. Many parents have gone through what you are going through right now. They can help you get started. And you, in turn, can help parents in the future.
I've seen this protocol work over and over again. In my 10 years of treating autism as a pediatrician and biomedical practitioner, I've never personally seen any child harmed by these treatments. The clock is ticking on every child with autism. Children need these treatments now. Many years from now science will either validate or invalidate each of the treatment steps. In the meantime, you can rest assured that you've done everything you can to help your child recover. I wish you and your child all the best as you start on your journey.
CONTENTS
Introduction
Part I – Diagnosing Autism
1 – Symptoms and early detection
2 – Pediatrician screening
3 – Referral to specialists for full assessment and diagnosis
Part II – Causes of Autism
4 – What causes autism? Mainstream and biomedical theories
5 – Testing to evaluate all possible causes
Part III – Treating Autism
6 – Behavioral, developmental, and educational therapies
7 – Prescription medications for autistic symptoms
8 – An overview of the biomedical approach
9 – Diet changes
10 – Vitamin and Nutritional Supplements
11 – Treating yeast and bacterial infections
12 – More advanced treatment options
13 – Treating associated medical problems
14 – Case studies
15 – Putting it all together: Dr. Bob's ten-step program
Part IV – Preventing autism
16 – Prevention for your future children
Conclusion: Recovery
Resources
Acknowledgments
Index
In Praise of The Autism Book
"Autism has many facets, from behavioral to educational to medical, and parents working for the best possible future for their children need a lot of options. Dr. Sears covers the territory broadly, fairly, clearly, with suitable precautions, and in very useful detail."—Martha Herbert, MD, PhD, assistant professor of neurology at Harvard Medical School and pediatric neurologist at Massachusetts General Hospital
"Dr. Sears has made another valuable addition to the Sears Parenting Library. The Autism Book is an easy-to-read, comprehensive, information-filled resource for parents of children with autism spectrum disorders."—Kenneth A. Bock, MD, author of Healing the New Childhood Epidemics: Autism, ADHD, Asthma, and Allergies
"Dr. Bob Sears has written a gem of a book geared toward parents, but extremely useful for professionals as well. In parent-friendly language, he provides a road map for parents of a child with autism, as well as those who may be questioning whether their child is developing typically. The biomedical chapters are incredibly informative, and, together with the educational-therapeutic intervention chapter, they lead you down a path of empowerment through knowledge. As a neurodevelopmental pediatrician, I know I will be referring to the biomedical section often and encouraging every one of my families with a child with an autism spectrum diagnosis to buy this book!"--Marilyn C. Agin, MD, FAAP, neurodevelopmental pediatrician and coauthor of The Late Talker
"The Autism Book by Dr. Robert Sears presents a clear, concise plan for the treatment of autism. Dr. Sears has covered a very complex topic and has done the ground work for concerned parents and practitioners. He thoroughly discusses a myriad of topics including the basics on vaccines, information on the diagnosis of autism, and therapies from routine medical and behavioral to the more complex biomedical. This is a must read for anyone interested in the care of the child in the autism spectrum."—Stephanie F. Cave, MD, author of What Your Doctor May Not Tell You About Children's Vaccinations
"Dr. Bob has done it again! The Autism Book is an important resource for both new and experienced parents of children with autism. Dr. Bob's balanced, integrative approach is a much needed fresh take on how we should confront the most troubling health epidemic of our times."—Lawrence D. Rosen, MD, FAAP, founder of The Whole Child Center, Oradell, NJ
"This is a solid, accessible book by a wise pediatrician and teacher and, most important, a doctor who really practices the art of listening to his patients." Sidney M. Baker, MD, Co-author of Autism: Effective Biomedical Treatments, Co-founder of the Defeat Autism Now! Project and The Autism Research Institute, and founder of www.Autism360.org