Dance Steps to Soothe a Crying Baby
Here are the dance routines that worked best for us to soothe a crying baby. Try these, but remember that the key to baby dancing is improvising.
1. The Swing
Hold your partner in the neck nestle or chest snuggle position and sway from side-to-side with as much movement as baby likes. This side-to-side swaying motion is the most natural dance step for parents to soothe a crying baby.
2. The Dip
This step is a variation of the swing. Bend your knees and then in a swaying motion come back up slowly and repeat the motion.
3. The Baby Hop
This hop is the kind you do to soothe a crying baby by bending your knees as you lift first one foot off the floor slightly, then the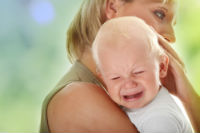 other foot. You do a hopping motion on the foot that's bearing your weight. (Your feet don't actually leave the ground.) Count "one-two" (left foot) then "three-four" (right foot) as you alternate. Sway from side to side as you alternate feet. To put more bounce in your hop, come up on your toes, if baby likes that.
4. The Soothe a Crying Baby Bounce
Hold baby face-to-face with one hand under her bottom and the other supporting her neck. Bounce gently up and down at a rate of 60 to 70 beats per minute using your arms and/or legs. Look at the baby and make eye contact. Another variation is to place baby in this dance hold and bounce gently on a trampoline or while sitting on a physio ball (make sure you are in a safe environment for this). Some babies like to bounce more vigorously than others do, so experiment. Often the higher the need, the harder the bounce. Baby needs you to match her energy level. But be wary of using too much force to soothe a crying baby. This dance should never be an excuse to punish the baby. If baby's cries continue as you bounce harder, you could find yourself growing angry and bouncing hard enough to hurt baby. This would be like shaking baby . Stop bouncing, cool down, and try something else.
5. The Rock
This is a simple back-and-forth movement as you bend at the waist (and knees, too, if you have the energy). Once you've got the hang of it, you can coordinate this motion with swaying side-to-side.
6. The Waltz
One of our favorites to soothe a crying baby (and babies' too), this step is simply a slide and glide movement as you go up on the toe of one foot, then glide the other foot forward to meet it. If you've never learned to waltz, you might want to add some music to help you get the rhythm. A simplified up-and-down version that you can do by taking exaggerated steps while walking, we have dubbed the "elevator step." Add some sways and dips and you have movement in all three places of the baby's vestibular system.
7. The Tango
Most babies prefer smooth dances, yet for some fussy infants the abrupt stops, starts, and changes in direction of the tango catch them by surprise and distract them from fussing.
8. The Twirl
While most of your dances to soothe a crying baby will be in the three calming directions of up and down, back and forth, and side to side, some babies appreciate the addition of a twirl to your dance routine. Twirl 180 degrees and come to an abrupt stop. A baby who is in full wail usually has his eyes squeezed shut. This abrupt stop will cause him to open his eyes. If you can make eye contact with him right away and keep moving, he'll probably abandon his wailing and watch you, at least momentarily.