Incredible attachment parenting stories
I was sitting at my desk one evening when my emergency beeper sounded, calling me to the hospital emergency room to evaluate a five-month-old baby who had stopped breathing. Here is one of the most heart touching attachment parenting stories I've ever been a part of.
Attachment parenting stories in the mother's own words
"We went to visit friends of ours for dinner. We put five-month-old Alan down to sleep on an adult bed. It was a firm mattress, not soft. He had never been in an adult bed before. This was a new situation for him. As we were having dinner, I felt that he had slept a little bit too long. He was a very restless sleeper, and very sensitive to noise, and the people walking by the bedroom hadn't awakened him. A sort of alarm went off inside of me. Why isn't he waking up? An uneasy feeling shot through me, a sort of 'what's wrong with this picture?' I ran upstairs and found Alan pale, blue, not breathing, and his face down on the mattress. We couldn't remember how to do CPR. We took those classes when I was pregnant, but in the panic, you don't know how you're going to react until you pick up a baby you think is dead. (For months I had nightmares of that little blue face). We dialed 911 and called for the paramedics as we also tried to get Alan to breathe. The paramedics seemed to be there within a couple of minutes. They just happened to be nearby. They revived Alan, and we rushed to the hospital, where we met Dr. Sears.*
"During our dinner when I wanted to check on Alan our friends said, 'Oh, let him sleep. You never have a break. This is your time. Why don't you just enjoy your dinner?' My insides couldn't. My instinct told me something was wrong, and I needed to listen to it rather than listening to what everyone else wanted. I know they wanted to have a nice dinner, especially my husband. It seemed great that Alan was sleeping so long, but I really felt that it wasn't right. I'm glad I listened to my instinct or I don't think Alan would be here today. (He had always been a restless sleeper, which fits the diagnosis of gastroesophageal reflux. The two previous nights were the first ones that he had ever slept through the night. We were so happy!)
"I believe one of the reasons I was so aware of Alan is that I was breastfeeding him and I held him a lot. We spent a lot of time together, and I took my cues from him instead of trying to schedule him or get him into my program. He never slept in bed with me at night. I could never sleep very well with him in bed with me. (I never sleep well with my husband in bed with me either.) But we always had Alan in our room.
Mother knows best
"This was definitely a life-changing experience for me. It was a very confirming experience. It taught me that I need to listen to what my instinct tells me, not anyone else. One of the most confusing things for a first-time mother is that everyone will give her advice, and she will read books and attachment parenting stories. Different doctors will tell her what she should do in different situations, especially when baby should sleep through the night, and how long he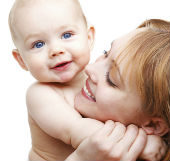 should sleep. This event made me throw away all of my 'how to get your kid to sleep through the night' books and just accept his sleep patterns as a fact of life. I had read all those 'let him cry it out' books, and every time I would encounter them, I couldn't do what these books said. My constitution would not allow me to let him cry or try to put him on a schedule. Alan knew when he needed to eat, I didn't.
"It's funny because I remember that the first night we brought him home from the hospital he slept through the night. Since he was a month premature, I remember thinking 'I need to get up and wake this child up.' Yet everyone said, 'Oh, you should be so thrilled that he's sleeping through the night.' When I began waking him up and feeding him, he ended up thriving.
Listen to your instincts
"What this event did is really confirm in me that I am okay as a mother, if I only listen to what's inside me and use the tools that I have. I learned the importance of trusting what I believe and not what my mother-in-law told me: 'Let him sleep. Never wake a sleeping baby. And don't hold him so much, you'll spoil him. He'll get used to being held.' I felt there was something inherently wrong with that advice. A mother should want to hold her baby and be next to her baby. That's where the baby has been for nine months and that's where he wants to be.
"I learned from this experience to just parent Alan in the attachment style of parenting instead of trying to get him to fit into my life, put him on my plan, which was what most people advocated. Now, when I hold a happy, healthy toddler in my arms, I'm happy that I listened to myself."
This mother's radar system, fine-tuned over months of attachment parenting, saved her baby's life. Score a happy ending for one of the greatest attachment parenting stories you'll ever hear.
* Hospital investigation of Alan revealed gastroesophageal reflux. This condition plus, perhaps, the strange bed phenomenon may have triggered a prolonged apnea episode in the baby.