Setting up a Daddy-Daughter Date
Fathers, if you have a preteen daughter, the adolescent years are soon to come. Those will be years when your daughter will gravitate toward her friends and away from you. Yet they will also be a time when she will need your support. To prevent a distance from developing between you, try this preventive medicine; when your daughter is around ten years of age (or even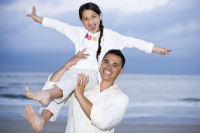 younger), start a custom I call a daddy-daughter date. Have an occasional "date" with your daughter—time together where she feels special and has your undivided attention. This is a time for one-on-one communication and shared enjoyment. Be sure to use this time strictly for being together and not for correction. This is a time to laugh, to listen and to connect with your daughter, especially if the two of you have become distant. In fact, these special times work well for any child at any age.
Not a Substitute for Daily Fathering
Dads, a word of caution: Don't let a daddy-daughter date substitute for day-to-day come-what-may activities with your daughter. It's in addition to, not a substitute for, daily fathering. The date won't work if it's the only time you want to "really talk." Spend some time with your daughter. Go to parks, play catch, play board games, play dolls, wash the car, shop, run errands and get gifts for Mom together. You will get used to relating closely with a female child, and she with a quality male.