Pregnancy Baby Growth during Weeks 30-34
Let's look at the ten pregnancy baby growth milestones baby is now making: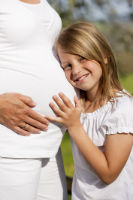 By the end of this month baby weighs from 3-4 pounds and is 16-18 inches long.
Fat deposits double, giving baby a more filled-out appearance.
Her skin begins to shed the silky, lanugo hair that covered the skin.
The hair on her eyelids and eyebrows grows longer.
Some babies sprout a full head of hair.
She can blink her eyes in reaction to outside light.
Baby has rapid brain growth and experiences definite REM and non-REM sleep stages.
Hiccups, which a mother may experience as sudden jerks, are common now.
Baby becomes more aware of her outside world and can react to its stimuli.
If she is born now, your baby may be able to breathe outside the womb on her own without medical assistance.