Best Practices for Taking Medication While Pregnant
When taking medication while pregnant it is always best to error on the side of caution.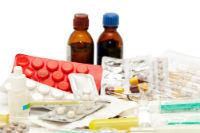 If you are unsure about whether you should take a certain medication consult your doctor before you take it.
These tips will help you make safe decisions for you and baby.
Do take the medicine in the exact dosage and for the length of time your doctor recommends. Taking more is not better, and it is often worse.
Don't take a lower dose than your doctor prescribes without consulting your doctor. The lower dose may do you no good, yet baby may still get the effects of the drug.
Don't read the PDR (Physician's Desk Reference). The information in the PDR about taking medication while pregnant is there to protect the manufacturer rather than to inform the consumer.
The warnings are needlessly scary and are often based upon research in which huge doses of a drug are given to experimental animals; the research may have little application to humans.
Don't try taking medication while pregnant, even over-the-counter ones, without consulting with your doctor.
Don't take over-the-counter remedies that contain several drugs unless advised by your doctor (e.g., cold remedies may contain mixtures of antihistamines, decongestants, aspirin, etc.)
Don't panic if you've taken a drug that you later read may be unsafe. Odds are greatly on your baby's side that no harm was done.
Do compromise. While some medications pose some risks to baby, a sick mom is not good for baby either. For example, if your nasal passages are so clogged you can't breathe, a one-time dose of a decongestant spray, such as AfrinR, has been shown not to have any harmful effects on the fetuses that were studied.
Do think about the effect of the drug on your baby. Because your baby's liver and kidneys are immature, he cannot eliminate the drug as you can, so the drug may stay in baby's system longer and at a higher level.
Don't use medicines if you are trying to conceive, especially in the first month. The first month of fetal organ development is a high-risk period for the effects of drugs. The "flu" you're experiencing may turn out to be early-pregnancy nausea.
If you are taking medication while pregnant that your physician has already approved, check with your doctor before taking an additional drug. Also, when your doctor gives you a prescription for a new medication, be sure to tell him or her about any other medications you are taking.
Certain drugs may be safe if taken individually, but not be safe if taken in combination with others.