How to Relieve Leg Cramps During Pregnancy
An annoying and uncomfortable side effect many women experience during pregnancy are leg cramps. Try these tips to help relieve your leg cramps during pregnancy.
Walk it Off
Walk if you can. Getting up and moving around works the best for relieving leg cramps during pregnancy.
Stretch it Out
If the cramp is severe, lie in bed, grab the toes of your hurting leg, and pull them back toward your head while keeping your knee straight and as close to the mattress as you can. Remember to stretch gradually, avoiding lunging or bouncing movements, which only aggravate the cramp and may even injure the muscles.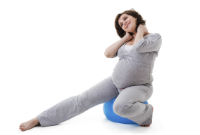 If your tummy bulge prevents you from bending forward enough to grab your toes, simply straighten your leg out, pressing the back of your knee into the mattress, flexing your toes toward your head.
Try Supplements
While a calcium-phosphorus imbalance is unlikely to be the cause of your leg cramps during pregnancy, if exercises don't work to relieve leg cramps, you might want to give your calcium supplements a try.
Consult with your healthcare provider about taking extra calcium tablets (calcium carbonate) that do not contain phosphorus. In a recent study, women who took magnesium tablets daily experienced less leg cramps during pregnancy. Unless your practitioner advises, it is not safe to eat a low-phosphorus diet while pregnant.
Exercise the Muscles
The following exercises will help to relieve leg cramps during pregnancy when they happen, and if you do them faithfully, may prevent them:
Standing calf stretch. Place the leg with the cramped muscles a foot or so behind your other leg. While keeping your back straight, gently bend the knee on the non-cramped leg so you lean forward, while keeping the cramped leg straight and its heel to the floor. (The forward leg also keeps its heel to the floor.) Don't bounce; just stretch gently. You may find it easier to balance if you press your hands or forearms against the wall while doing this stretching exercise.
Wall push-ups. Place your hands flat against the wall and step back until your arms are fully extended. Keeping your feet flat on the floor and your back straight, lean in toward the wall while bending your elbows. You should feel your calf muscles stretch comfortably. If it's too much of a stretch, stand closer to the wall.
Sitting leg stretches. Sitting on the floor, stretch one leg out to the side, foot flexed. Fold your other leg in, foot toward your crotch. While keeping your outstretched leg straight, bend forward and reach toward your toe. Hold this stretched position for a few seconds. Switch sides and repeat. Don't point your toes straight out and pull your heel toward you since that contracts the muscles that are already cramped.
Numbness and Tingling in Your Hands
Alongside leg cramps during pregnancy, you may experience numbness or tingling in the hands. This pins-and-needles or burning sensation usually involves the thumb, first two fingers, and half of the ring finger, and may be accompanied by pain in the wrist that can shoot all the way up to the shoulder.
Sometimes you may feel soreness when you press the inner surface of your wrist. This condition is known as carpal tunnel syndrome. Carpal tunnel syndrome is caused by excess fluid that collects around the narrow carpal tunnel beneath the wrist. The nerves pass through this tunnel on the way to your hand, and pressure from the fluid makes them numb or tingly.
Carpal tunnel symptoms are likely to occur during the night, after a daylong accumulation of fluid in the wrists, or when you wake up in the morning, especially if you sleep with your arm under your head.