Ease Discomfort from Carpal Tunnel During Pregnancy
To ease discomfort from carpal tunnel during pregnancy, try the following tips: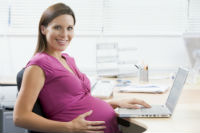 Rest your hands more during the day.
Avoid activities that aggravate the tingling, such as turning your wrist to pour, or anything that involves repetitive wrist movements.
If you work on a computer, type with your wrists in the neutral position, flexed slightly down, rather than with your wrists curved up. Use a wrist rest to help you maintain this position.
At night elevate the affected hand or hands on a pillow.
Wear a plastic splint at night to immobilize your wrist in a neutral position. Look for these in the drug store. If needed, your doctor can prescribe a splint that is custom-fitted to your wrist.
If the pain is particularly aggravating and persistent, a specialist can immediately relieve the discomfort with periodic cortisone injections, which are safe during pregnancy.