Bonding With Your Newborn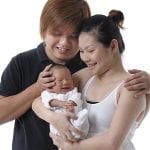 This is a very important time for you and baby. Skin to skin contact is both soothing for the baby and new mother. Bonding with your newborn is essential and will help you to learn what their noises mean and how you can soothe them faster.
Bonding – What It Means
Bonding—the term for the close emotional tie that develops between parents and baby at birth—was the buzzword of the 1980's. Dr's. Marshall H. Klaus and John H. Kennell explored the concept of bonding in their classic book Maternal- Infant Bonding. These researchers speculated that for humans, just as for other types of animals, there is a "sensitive period" at birth when mothers and newborns are uniquely programmed to be in contact with each other and do good things to each other. By comparing mother-infant pairs who bonded immediately after birth with those who didn't, they concluded that the early-contact mother- infant pairs later developed a closer attachment.
Bonding is really a continuation of the relationship that began during pregnancy. The physical and chemical changes that were occurring in your body reminded you of the presence of this person. Birth cements this bond and gives it reality. Now you can see, feel, and talk to the little person whom you knew only as the "bulge" or from the movements and the heartbeat you heard through medical instruments. Bonding allows you to transfer your life-giving love for the infant inside to caregiving love on the outside. Inside, you gave your blood; outside, you give your milk, eyes, hands, and voice—your entire self.
The Benefits of Bonding with Your Newborn
Bonding brings mothers and newborns back together. Bonding studies provided the catalyst for family-oriented birthing policies in hospitals. It brought babies out of nurseries to room-in with their mothers. Bonding research reaffirmed the importance of the mother as the newborn's primary caregiver.
Bonding with your newborn is not a now-or-never phenomenon. Bonding during this biologically sensitive period gives the parent-infant relationship a head start. However, immediate bonding after birth is not like instant glue that cements a parent-child relationship forever. The overselling of bonding has caused needless guilt for mothers who, because of medical complication, were temporarily separated from their babies after birth. Epidemics of bonding blues have occurred in mothers who had cesarean births or who had premature babies in intensive care units.
What about the baby who for some reason, such as prematurity or cesarean birth, is temporarily separated form his mother after birth? Is the baby permanently affected by the loss of this early contact period? Catch-up bonding is certainly possible, especially in the resilient human species. The conception of bonding as an absolute critical period or a now-or-never relationship is not true. From birth through infancy and childhood there are many steps that lead to a strong mother-infant attachment. As soon as mothers and babies are reunited, creating a strong mother-infant connection by practicing the attachment style of parenting can compensate for the loss of this early opportunity. We have seen adopting parents who, upon first contact with their one-week-old newborn, express feeling as deep and caring as those of biological parents in the delivery room.
Bonding With Your Newborn Articles