Relieve Postpartum Stress to Enjoy Time With Baby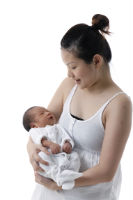 It is natural to feel stress in the weeks after you have given birth. Try these tips to relieve postpartum stress.
Rest.
Soak in a warm bath.
Get frequent massages, especially on sore muscles.
Replenish your body's need for fuel by eating and drinking nutritious foods.
Hold your baby a lot to get your mind off your body.