Everything You Need to Know About the Supernutrient for Living Longer, Happier, and Healthier.
Available now on Amazon.com. Read the press release below:
Dr. William Sears has the unique gift of being both an excellent physician and a great communicator. In The Omega-3 Effect, he offers practical, easy-to-understand yet authoritative advice written with humor, intelligence, insight, and clarity. Dr. Sears is one of the few physicians who actually is well-versed in accurate nutrition information and always is a good resource for putting know-how into practice.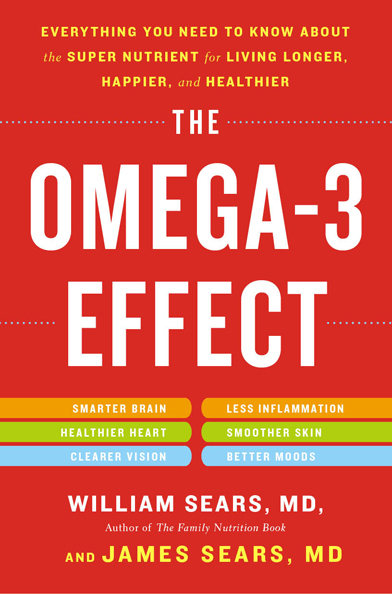 The Sears family is one of the most trusted names in pediatrics. With more than two million books sold, the Sears Parenting Library has established itself as the premier pediatric resource for consumers. Drs. William Sears and James Sears have broadened their scope beyond children's health to family health and nutrition in their new book, THE OMEGA-3 EFFECT: Everything You Need to Know About the Supernutrient for Living Longer, Happier, and Healthier (Little, Brown and Company; August 28, 2012; $10.99).
Omega-3s are highly unsaturated fatty acids that are commonly found in seafood and fish oil supplements. THE OMEGA-3 EFFECT explains the nutrient's chemistry and how it can help heal various mental and physical ailments ranging from high blood pressure to Alzheimer's disease. By going through each body system, the Searses describe the head-to-toe healing effects that omega-3s possess, including the ability to aid in weight loss and reverse some of the effects of aging, as well as the role they play in pregnancy and children's health. The book shows readers how to incorporate omega-3s into their diet by providing proper supplement dosages and information on how to select and prepare seafood safely.
THE OMEGA-3 EFFECT continues the Sears family's tradition of writing books that "reach the most readers with the best science in the simplest way." William Sears even draws on his personal experience, touching on the colon cancer diagnosis that led him on a search for the perfect health food. He discovered that omega-3s functioned as medicine for brains and bodies of all ages. Whether we're looking out for ourselves or our children, THE OMEGA-3 EFFECT is a thorough guide to how to live as healthfully as possible.
The Omega-3 Effect by William Sears, MD, and James Sears, MD
Little, Brown and Company | August 28, 2012
$10.99 | Paperback | 256 pages | ISBN 978-0-316-19684-0
For more information on THE OMEGA-3 EFFECT or to schedule an interview with the Searses, please contact Justin Levine at (212) 364-1395 or Justin.Levine@hbgusa.com.
Check out THE OMEGA-3 EFFECT now on Amazon.com. Also check out our sections on Omega-3s and Seafood for new articles!