It's a Virtual World: Setting Practical Screen Time Limits
(dailyRx News) Tablets, smartphones, computers, TVs — sometimes it feels like a screen-crazy world. As children use more screens in their daily lives, guidelines on their limits may need to be reconsidered.
That's the message from a new study on kids and screen use. The authors of this study said that limiting kids' screen time may be healthy, but current guidelines may be unrealistic because screens are so integrated into daily life.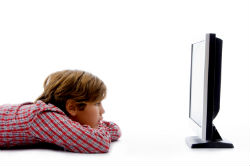 Studies have found that, when children spend prolonged lengths of time staring into screens, their physical and mental health may suffer. For instance, increased TV viewing over time has been linked to a higher risk of depression and anxiety among teen girls.
Recent research has found that most children exceeded the recommended screen time limits of less than two hours per day. Social media, screen use for school, and mobile devices may all contribute to this problem.
Anand Bhatt, MD, a board-certified pediatrician on the medical staff at Baylor Medical Center at Irving, told dailyRx News that he believes the two-hour screen time limit was first introduced in response to growing concerns about the effect of TV on children. "At that time, it was studied and determined that when [screen time] exceeded two hours, it compromised the time spent playing outside, time playing with friends, time engaging the child's imagination and creativity, and therefore had diminishing returns," he said.
Dr. Bhatt, who was not involved in this recent research, said that experts might reconsider the amount of screen time used in education because certain age groups are presented with more materials through electronic media.
"But the bigger thing to study is what effect on children is a lifestyle (children's and parent's) that is dominated by gadgets like TV, phones, laptops, computers, video games and iPads," Dr. Bhatt said.
"People who work with children — parents, teachers, pediatricians, Sunday school teachers — are all uniformly observing that kids have shorter attention spans, require large amounts of super sensory input to hold attention, struggle with restlessness and distractability more, have very little patience, have difficult time sitting quietly and have less developed social and emotional coping skills that come from working with lots of live people. We can wait for a scientific study to prove it or we can as parents recognize the impact this new lifestyle is having on our children in an everyday manner and decide if this is the new type of kid we want to raise," he said.
To keep kids' screen time down to healthy levels, Dr. Bhatt recommended that parents take their kids outside in nature, to go hiking or biking, or to go to a park to get some fresh air and quality family time. "Play sports and play games with children," he said. "Give teenagers gadget breaks. Do not bring gadgets to the dinner table, when playing outside or in nature. Parents have to lead by example. If they always look at their phone when with their children, then that is what their kids will do."
Stephen Houghton, PhD, director of the Centre for Child & Adolescent Related Disorders at the University of Western Australia in Perth, conducted this new study with colleagues.
"The introduction of mobile devices suggests the less than two hours per day recommendation may no longer be tenable given the surge in social media engagement and school derived screen use," Dr. Houghton said in a press release. "Guidelines for appropriate screen use should also take into account the extent to which screen use differs across form, activity, sex, and age."
Dr. Houghton and team surveyed more than 2,500 Australian children about their screen usage. These kids ranged in age from 8 to 16.
These researchers showed the patients several types of electronic devices with screens, including iPads, iPods, laptops, Portable PlayStations, laptops and Xboxes.
Around 63 percent of the kids reported that their use of all these possible screens went over the suggested limit of two hours per day. Among the youngest patients (age 8), only 45 percent exceeded the guidelines. For those ages 14 to 15, however, 80 percent went beyond the limit.
"The effect of increased and excessive screen time on different ages is different like the article suggests," Dr. Bhatt said. "For the younger age, parents are unable to spend quality, unstructured time with their kids, and they're unable to spontaneously facilitate outside time with kids in the neighborhood, and therefore screen time is becoming a convenient babysitter. For older kids, smartphones and laptops are becoming an increasing distraction during their study hours."
The American Academy of Pediatrics recommended the two-hour limit in 2001 for all children older than 2. The organization urged that those younger than 2 should have no exposure to screens.
In this study, TV watching ranked as the most common type of screen use, with 90 percent having watched in the last week. Other common screen use was on laptops (59 percent), iPads/tablets (58 percent) and cellphones (57 percent).
Dr. Houghton and colleagues noted some differences between boys and girls in this study. They anticipated that boys were more likely to exceed the two-hour recommendation when it came to playing computer games. They did not expect, however, that girls were more likely than boys to go beyond the two-hour mark with social networking, Web use and TV watching.
These researchers also noted that girls were much more likely as they got older to exceed the two-hour suggestion for social networking.
Dr. Houghton and team said further studies were needed to better understand the impact that today's screen-based media use may have on the mental, social and physical health of young people.
This study was published Jan. 21 in the journal BMC Public Health.
Source:
"It's a Virtual World: Kids' Screen Time Limits May Be Too Strict." Don Rauf, dailyRX. Jan. 22, 2015. Web.
Originally published at: http://www.dailyrx.com/screen-time-limits-children-may-improve-health-screen-time-guidelines-may-need-be-reconsidered – Archive of original article