Why Movement and Exercise is Important for Your Health
You have probably heard it a thousand times from your doctor, "movement is important for your health," but have you ever really understood why? In our T5 (short for Transform 5) Wellness Plan, Dr. Bill explains his "ah ha" moment when he realized that we all have an internal pharmacy within the lining our blood vessels that release the medicines our bodies need when we move and avoid unhealthy foods.  Your body can make five main types of medicines which:
Lower your "highs": blood pressure, blood sugar, and blood cholesterol
Elevate your "lows": antidepressants
Mellow your moods: anti-anxiety neurochemicals
Heal your hurts: anti-inflammatories
These illustrations show the effect of movement and a healthful diet: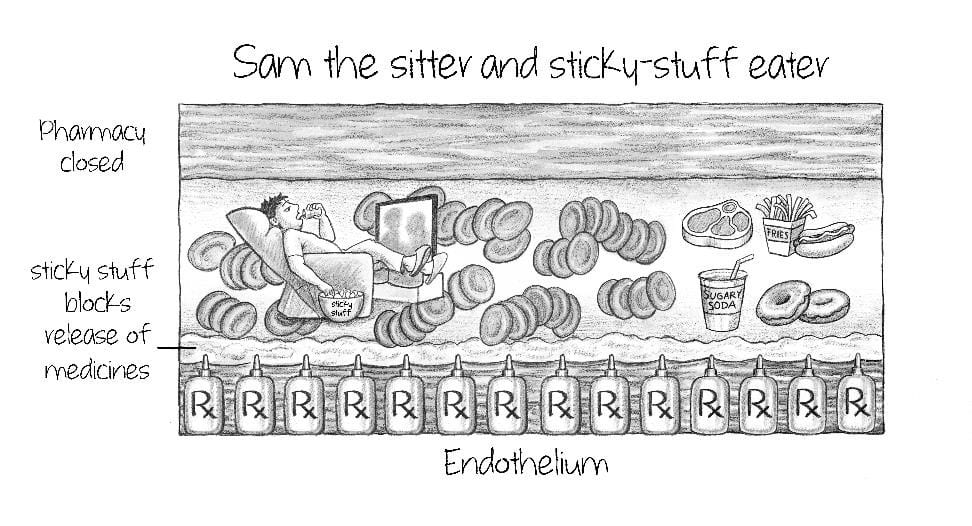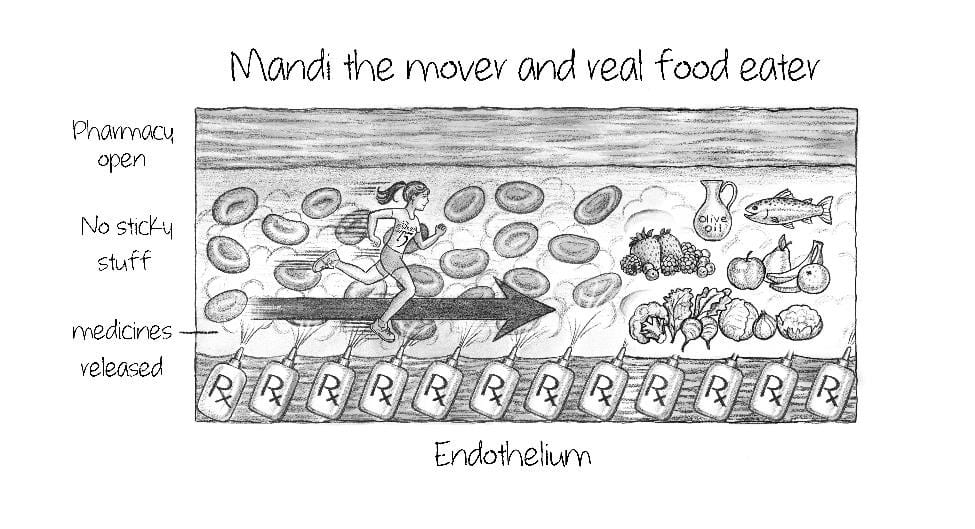 Getting Started with Exercise
I know getting started on a movement or exercise plan can feel overwhelming, so remember our motto, "the right movement for you is the one you will consistently do and stick to," and make it fun! Start with something you enjoy; for me, it was a dance workout like Zumba. Really understanding the benefits in another way to stay on your plan on those days when motivation is lacking. In our T5 exercise program, you will trade excess body fat for more muscle and enjoy a leaner waist. Making this healthy transformation means you will have just the right amount of body fat for your gender and body type. Science says that those who build more muscle and lean out their waists enjoy:
Lower incidence of type 2 diabetes
Lower blood pressure, blood sugar, and triglycerides
Lower risk of cardiovascular disease
Lower risk of neurodegenerative diseases
Fewer falls and fractures, and stronger bones
Fewer inflammatory illnesses
Longer-lasting weight control
Here are the top five ways to exercise:
Isometrics
Aerobics
Strength training
Rhythmics: dancing and swimming
Movements for your mind: stretching/Yoga
Isometrics: Isometrics are an exercise in which you "flex and hold" for as long as you can—until you can feel the "burn" of muscle fatigue. These are perfect for travel or when you're stuck in a meeting; movements such as heel raises or leg lifts.
Aerobics: Cardiovascular exercise, like walking, jogging, swimming, and biking. This is a T5 must-do because these movements make blood flow faster through your blood vessels opens, your internal pharmacy so you can make your own medicines.  Cardiologists aren't the only doctors who recommend cardio. It is the "medicine" most prescribed by clinical psychologists and psychiatrists, mainly because making your own medicine nourishes your brain better. Fascinating new studies have shown that vigorous daily aerobic exercise can have safe mood-mellowing effects.
Strength Training: Body-weight exercise—like pushups, pull-ups, sit-ups, leg-ups, and knee bends—are great; and you don't need a gym to do them. However, adding resistance using exercise bands, free weights, or machines will help trim fat and tone muscle. How much weight should you lift, push, and pull for an effective but safe workout? A good gauge is that you should feel the burn during the last three reps in a set of 12 to 15. If you don't feel the burn by rep number 12, the weights are probably too light. If you feel the burn before rep number eight, you're probably lifting more weight than you should.
Rhythmics: Rhythmic movements are the most fun you can have working out. And this kind of exercise boosts balance and brain function. Studies show that dancing seniors are healthier, in mind and body. Dancing promotes balance, and new dance steps grow new brain pathways. Your brain likes the variety of dancing more than the boring old treadmill. Grab your sweetheart and make a date night out of it!
Movements for Your Mind: The yogic principles of linking breath to movement align beautifully with T5 and will help you experience one of its main benefits: the balancing of mental and physical strength. The poses offer low-impact muscle strengthening and toning, promote flexibility, and help detoxify internal organs. I recommend a Hatha flow class for beginners. In this format, you move a little more slowly and hold each pose, which helps you learn them and find strength and balance.
Enjoy exploring what combinations of movements or exercise work best for your body. Model for your family the importance of self-care, and investing in your health. Make it fun! Get the whole family on board.
Cheers to health!
Coach Erin Sears Basile and Dr. Bill Sears