Dr. Bill's Top Benefit For Exercising is Brain Development
Make Your Own Medicines by Opening Your Internal Pharmacy
Several times a day in my medical practice I surprise a patient by saying, "You can make your own medicines!" My recommendation, exercise for brain development and body development! To reinforce this advice, I add, "And the medicines you make are safer than the medicines you take because they are custom-made just for you. They come out at the right time, in the right dose, with no side effects, and are free. Your insurance company will love you! Just in case patients don't think I'm serious, I add the finishing touch: "And, what you're about to learn won the Nobel Prize!"
Twenty years ago when I had my own health crisis, I kept thinking, "If I were designing the greatest machine ever made, the human body and brain, and I knew humans would mess it up by the way they eat and live, I would put into their body an internal pharmacy that makes nearly all the medicines they're going to need." How else would the human race have survived all those years before the advent of neighborhood pharmacies?
Also, if you were designing the human body and wanted it to last a long time and stay healthy, you would put an internal pharmacy in a location that quickly and easily dispenses the medicines into the bloodstream. And that's exactly where it is – in the lining of the blood vessels, called the endothelium, or what I call "the silver lining."
As a pediatrician for fifty years, I'm known as a science-made-simple-and-fun doctor. So, come with me on a journey into where your internal pharmacy is, the medicines it makes, how to keep it open and smile while you're learning.
The tale of two arteries. In my illustration below, notice the blood vessel of a healthy person. First, the blood vessel is wider so the blood can flow faster. And notice the lining of the blood vessel contains trillions of microscopic squirt bottles that release medicines into your bloodstream. In the illustration of Mandy the Mover and real-food eater, because she eats real foods, there is no sticky stuff on top of her medicine bottles, so her pharmacy is open. Because Mandy moves a lot, her blood flows faster. My friend, Dr. Lou Ignarro, won the Nobel Prize for discovering that faster-moving blood over the surfaces of the silver lining creates an inner shear force that opens the medicine bottles to dispense the medicines you need.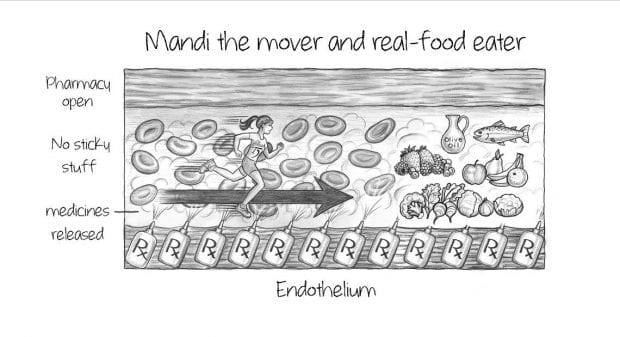 Now notice Sam the Sitter and sticky-stuff eater. His pharmacy is closed because, as I explain to kids – and adults – in my office, "You put sticky stuff in your mouth (junk food) and you get sticky stuff on top of your medicine bottles so the pharmacy stays closed." Because Sam sits too much, he doesn't enjoy getting his blood flow to move faster over the tops of the medicine bottles – another reason why his pharmacy is closed.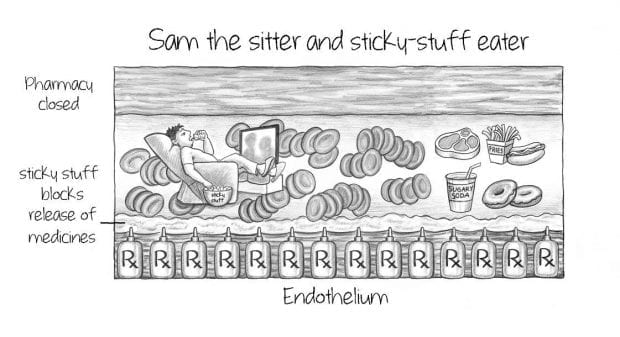 THE MEDICINES YOUR INTERNAL PHARMACY MAKES
Over twenty "medicines" have been discovered and, undoubtedly, more will be discovered later. We make five main types of medicines that:
Lower your "highs": blood pressure, blood sugar, and blood cholesterol
Elevate your "lows": antidepressants
Mellow your moods: anti-anxiety neurochemicals
Heal your hurts: anti-inflammatories
Keep your blood from clotting too fast: anticoagulants
WHY MOVEMENT MATTERS FOR THE CHILDS DEVELOPING BRAIN
Think of your child's brain as the greatest garden ever grown. What do you need to grow a smart garden? You need to water it, feed it, and fertilize it. That's what you do when you move. When you increase the blood flow to the blood vessels in your brain, you release a "smart medicine" called brain growth factor, or vascular endothelial growth factor (VEGF). When I talk to kids I use the term "Veg." It acts like food and fertilizer to help the tissues in your brain garden grow smarter.
Top ways to get your kids moving:
Make it fun! The sun is out which means it's time to go outside and play. Tell your kids that they have to earn screen time by choosing an activity outside. Better yet,
make it family fun time with a game like tag, or a race.
Join a community pool.
Join a sports team. If they don't love sports and prefer a more intellectual activity, then use the "Mindy the mover" picture to show them how they can fertilize their brain garden when the move to help there brain grow!
Join a mommy and me class like dance, yoga, karate, or simple walking.
Tune in to what they already enjoy, for instance, if they have lots of extra energy after school consider gymnastics or dance where they can bounce and wiggle it out.
This is a top tip for all ages, and what I have shared for many years in my medical practice. I have used the term "make your own medicines" as a motivator for my patients to transform their health, and it is one of our top teachings in our health coaches' training at the Dr. Sears Wellness Institute. It is also the top theme in our new book, The Dr. Sears T5 Wellness plan: Transform Your Mind and Body, Five Changes in Five Weeks. Kids love the "make your own medicines" and "keeping sticky stuff off the medicine bottles" analogies. I was giving the "Make Your Medicines" talk to a first-grade class and a mother told me this story:
"My six-year-old daughter loved your 'sticky stuff' talk! The next day my husband piled our kids into the van and took them to, shall we say, 'Sticky's Burgers.' As they pulled into the takeout joint, our six-year-old scolded her father: 'Daddy, we can't put sticky stuff in our mouth because we'll get sticky stuff on top of our medicine bottles, and we'll get sick and our brain won't grow smart!'"
Sit back and enjoy having your own personal internal pharmacy, and teaching your kids how to fertilize their brain gardens by using these simple tools to keep it open to make the medicines that are right for you.
---
If you would like to work with a Certified Health Coach during your pregnancy, or postpartum, you can find a Coach in your area.