A Hug's Impact on the Brain
This October, I attended the Huggies Parents Council in Chicago. As a guest speaker, I had the honor of connecting with parenting influencers to teach them what I have seen and experienced in terms of a hug's impact on the brain. In addition, I, too, learned more about the brain's response to hugging.
Dr. Olivier Ouiller, a neuroscientist, was able to visually demonstrate the brain's reaction to hugging through a visual simulator. Via EEG (Electroencephalography) headsets, he conducted real-time demonstrations with volunteers in the room. I volunteered and I could see the visible difference from my resting brain and how vibrantly my brain reacted to hugging.
I loved participating in this amazing experience and have included a photo from the experiment below. From my conversations with Dr. Ouiller, I learned how his brain mapping studies revealed what all parents have long suspected: hugging is good for the happy centers in our brains – at all ages.
This experience only re-iterated to me what I already know from my own research: the body, especially a baby's body, develops better when met with skin-to-skin contact, and frequent hugs. Hugging for twenty seconds can have a significant impact on your health by lowering your blood pressure, boosting your immune system and even increasing oxytocin, the hormone that gives us a bonding feeling and sense of security. For young children and babies, who need a variety of different sensory stimulations for normal development, hugging is one of the most important stimulations required to grow a healthy brain and a strong body. A 20-second hug can truly help children grow smarter, healthier, happier, more resilient, less prone to illness, and more connected to their family and community.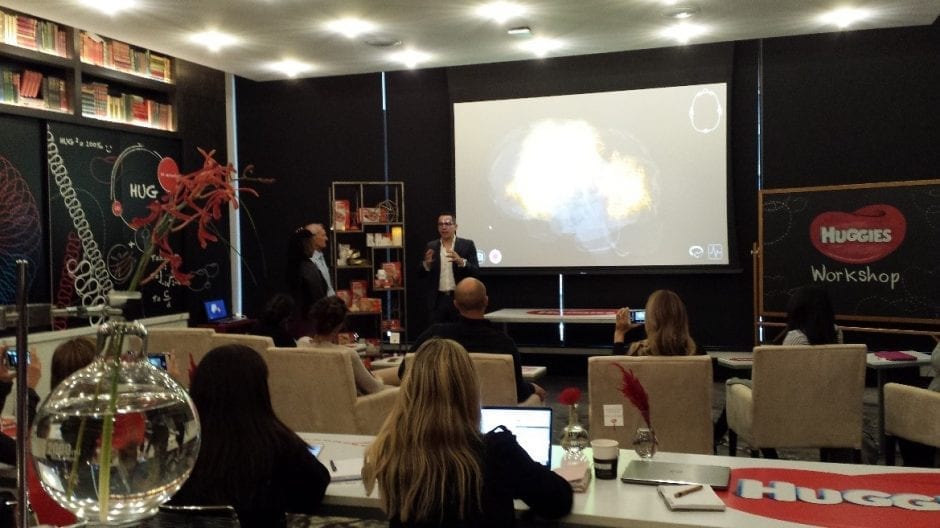 You can see the benefit of hugging easily at home. I encourage everyone to try a simple hug experiment with your family – go give someone a twenty second hug – the full 20 seconds now, and you will feel the difference, even if you do not have an EEG headset ready to see your brain's reaction!
I wish you all happy hugs for the holidays,
Dr. Bill
Huggies believes deeply in the Power of Hugs, which is why every diaper and wipe is inspired by a parent's embrace. The Huggies No Baby Unhugged program helps ensure all babies get the hugs they need to thrive by supporting hugging programs in hospitals and donating diapers across the country. Learn how you can help at Huggies.com. #HuggiesCouncil