12 Most Common Signs of Nasal Allergy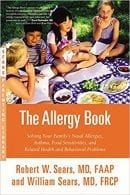 Nasal congestion
Clear runny nose
Itchy nose
Crease across the top of the nose from constant wiping
Excessive sneezing
Itchy, watery, red eyes
Dark circles under eyes
Wheezing
Persistent cough, often rattling
Recurrent ear infections
Recurrent colds
Nighttime cough and nasal congestion
Two important things to note regarding these symptoms of a nasal allergy:
While all of these symptoms can be signs of allergies, they can also be signs of the simple, common cold.
Your child will often have two or more of these symptoms if allergies are present. For example, dark circles under the eyes without any nasal symptoms are probably not allergies.
To leran more about allergies, click here.