New research shows touch is very powerful for baby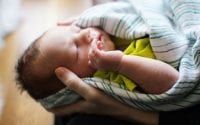 For many years, I have believed in the power of touch when caring for babies. Back in 2013, I published an article on the positive effects of touch, including improved brain growth, digestion, behavior and self-esteem. Recently, there has been a wave of new research demonstrating the benefits of touch for babies so I wanted to revisit the topic with you.
A March 2017 study originally published in Current Biology highlighted the importance of touch between babies and their caregivers, focusing on both premature and full-term infants. This study found that "intentional supportive touch," such as skin-to-skin hugs and cuddles given by caregivers, aids in the skill development of premature babies in the NICU. It also confirmed that gentle touch is one of the essential elements for baby's growth and development.
This study affirms what most parents intuitively feel and what I have observed over my years as a pediatrician working with patients and families: Babies thrive when given frequent embraces, hugs and snuggles.
I tell all my patients that it is important to take advantage of as many moments as possible throughout the day to hug your baby and ensure they receive the gentle touch they need. You can work in special bonding moments with your baby during playtime, before bedtime and of course pull them into a comforting embrace when they are upset.
One important, but often-overlooked, opportunity for touch is during diaper changes. Diaper changes happen frequently (as new parents know all too well!) and taking a few extra moments to bond with baby during these changes certainly adds up. When it comes to diapering, I recommend opening and closing the experience with a hug!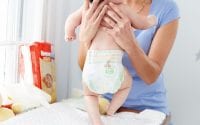 As touch is so important for baby, I am sure we will continue to see research on this topic. But my main takeaway for you is that babies are not spoiled by touch, but are instead enriched and sustained by it.
Note: This article was sponsored by Huggies®.  Dr. William Sears is a proud member of the Huggies Parent Council.
Huggies believes deeply in the Power of Hugs, which is why every diaper and wipe is designed to emulate a parent's embrace. The Huggies No Baby Unhugged program helps ensure all babies get the hugs they need to thrive by supporting hugging programs in hospitals and donating diapers across the country. Learn how you can help at Huggies.com #HuggiesCouncil #ad