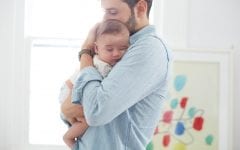 Note: This article was written by Dr. William Sears and sponsored by Huggies®.  Dr. Sears is a member of the Huggies Parent Council.
Bonding—the term for the close emotional tie that develops between parents and baby at birth and in the beginning months— is a critical step in the relationship building process with your newborn. Many of my patients often ask me how they can let their newborns know they are loved right away. It's simpler than most might think and it is not something that needs to be forced. In fact, something as simple as a hug goes a long way. I am a proud member of the Huggies Parents Council, and for me, a brand like Huggies is easy to support because they believe in the power of hugs too. So do whatever feels natural to you – hug your baby. These bonding tips should get you off to a great start.
Tip #1: Talk to your newborn
During the first hours and days after birth, a natural baby-talk dialogue will develop between mother and infant. Voice analysis studies have shown a unique rhythm and comforting cadence to a mother's voice. So make sure you are talking to your baby, even if it is just a one-sided dialogue.
Tip #2: Hugs are powerful  
When babies are born, they are immediately put into the arms of their parents and hugged. This skin-to-skin act helps to bond parent and child and is vital to the healthy development. This is because every hug sparks the release of hormones that benefit health and help regulate body temperature. Oxytocin, the hormone released through touch, is even nicknamed the "bonding hormone."
After this first special moment between parent and child, the child is then diapered for the first time and in a way are given another hug by the diaper. Make sure you have the right diaper for your baby. Huggies Little Snugglers Diapers are my top choice because they are inspired by a parent's hug and offer the brand's best skin care. I particularly like how the GentleAbsorb® Liner provides a cushiony layer of protection between your baby's delicate skin and the mess. They also offer a softer, breathable cover that helps keep your little one comfortable and lets skin breathe.
Tip #3: Enjoy the act of diapering
Unfortunately, the significance of diapering can be lost as the activity sometimes takes on a chore-like stigma. Avoid that way of thinking as diapering can be a great opportunity to connect with your infant. Babies love novelty, so develop a collection of special antics like facial gestures, songs, actions to use during diaper-changing time to help make this time with your baby more special. For example, wiggle your fingers up and down, walking them up and down the arms and legs and abdomen of the baby during diaper-changing time. Babies will begin to look forward to diaper-changing and tend to lie more quietly because they know fun is soon to follow. It is also always a good practice to end diapering with a hug as human touch is extremely beneficial for babies. A hug can stabilize their heart rate, increase oxygen levels, strengthen the immune system and reduce crying and stress.  For more tips on diapering, go to Huggies.com.
Tip #4: Wear your baby
Baby wearing is a great way to continue to bond with your baby. By carrying your baby in a wrap or sling, you are able to hear every sound. As you take your baby out and about, the sound of your heart beat and warmth of your body are soothing. Being that close also allows baby to have more interaction with you and the environment. Babies learn quite a lot in the arms of a busy caregiver.
Tip #5: Gaze at your baby
Your newborn can see you best with an eye-to-eye distance of eight to 10 inches (20 to 25 centimeters). Place your baby in the face-to-face position. This is where you adjust your head and your baby's head to be in the same position so that your eyes meet. Enjoy this visual connection during the brief period of quiet alertness after birth or before baby falls into a deep sleep. You might be surprised at how staring into your baby's eyes can trigger a rush of beautiful feelings.
Tapping into the power of bonding will not only make your baby feel more secure in their surroundings, it will allow the parents to enjoy the delights that come along with having a newborn.
Huggies® believes deeply in the Power of Hugs. The simple, loving act is proven to support babies' emotional and physiological well-being. Huggies® diapers and wipes are inspired by a parent's hug, – to nurture baby with care, cradle baby in comfort and surround baby in protection. Make sure you embrace baby's bottom with Huggies® Little Snugglers Diapers to deliver our best skin care to help keep baby's skin clean and healthy. Learn more at Huggies.com. #HuggiesCouncil