SSRI Antidepressants Taken During Pregnancy Affects Baby
Pediatricians have become increasingly concerned about the growing use of selective serotonin reuptake inhibitor (SSRI) antidepressant use among pregnant women, especially since animal studies have suggested these medications may increase the incidence of anxiety and depression in their offspring.  Could this association be true for humans?  A lead article in the June 2018 issue of JAMA Pediatrics suggests yes.
Neuroscientists at the Department of Psychiatry, Columbia University Medical Center, using MRI scans, studied the centers of newborn brains that most control emotions.  They compared the findings of infants of mothers whose depression was treated with SSRIs during pregnancy with depressed mothers who did not take SSRIs, and pregnant mothers who were neither depressed nor treated with these medications.  The findings revealed that babies whose mothers had taken SSRIs during pregnancy showed changes in the regions of their baby's brain that were associated with emotional development, namely the amygdala.  Also, The National Registry Study of more than 15,000 prenatally SSRI-exposed offspring found increased rates of depression in adolescents.
A word of caution: even the authors of this study reveal concerns about the conclusions because it is very difficult to do psychological studies where all the variables are controlled.  One possibility is that women who were treated with SSRIs during pregnancy were more severely depressed, and the resultant changes in their baby's brains were due to the severe depression and not the medication.
Providers Should Be More Selective For Pregnant Women
An important point of this study is it raises awareness that healthcare providers should be more selective in prescribing SSRIs, and pregnant mothers may want to seek safer forms of treatment, such as the self-help skills that we mention in our most recent book, The Dr. Sears T5 Wellness Plan, Makeover Your Mind and Body, Five Changes in Five Weeks.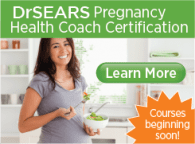 Many physicians believe that the increase in SSRI prescriptions for depression during pregnancy is due to both the lack of time a healthcare provider has to customize self-help skills for the mother and the general lack of expertise in treating depression during pregnancy.  Studies like this are the reason that our trademark teaching in the Dr. Sears Wellness Institute coaching courses is Make Your Own Medicines®.  The good news is self-made antidepressants are one of the top medicines you make by practicing the four pillars of health we teach in the Dr. Sears Wellness Insitute online Health Coach Certification courses classes: Lifestyle, Exercise, Attitude, and Nutrition (L.E.A.N.).
Dr. Bill Sears

Dr. Sears, or Dr. Bill as his "little patients" call him, has been advising busy parents on how to raise healthier families for over 40 years. He received his medical training at Harvard Medical School's Children's Hospital in Boston and The Hospital for Sick Children in Toronto, the world's largest children's hospital, where he was associate ward chief of the newborn intensive care unit before serving as the chief of pediatrics at Toronto Western Hospital, a teaching hospital of the University of Toronto. He has served as a professor of pediatrics at the University of Toronto, University of South Carolina, University of Southern California School of Medicine, and University of California: Irvine. As a father of 8 children, he coached Little League sports for 20 years, and together with his wife Martha has written more than 40 best-selling books and countless articles on nutrition, parenting, and healthy aging. He serves as a health consultant for magazines, TV, radio and other media, and his AskDrSears.com website is one of the most popular health and parenting sites. Dr. Sears has appeared on over 100 television programs, including 20/20, Good Morning America, Oprah, Today, The View, and Dr. Phil, and was featured on the cover of TIME Magazine in May 2012. He is noted for his science-made-simple-and-fun approach to family health.