Taking Pregnancy Nausea Medication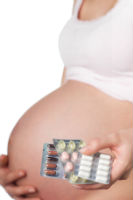 Some medicines to treat vomiting (called antiemetics) are safe, some are not.
Emetrol (basically Cola syrup) is a safe and sometimes helpful pregnancy nausea medication. A tablespoon taken several times a day may relieve an upset stomach.
Phenothiazines (Compozine, Tigan, Phenergan) despite the "yellow light" caution category are generally considered safe for pregnancy, especially in the short course used for the treatment of occasional vomiting from gastrointestinal disorder or severe morning sickness.