Morning Sickness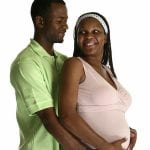 Yes, that feeling that you've been hearing about and dreading may have started by now. The term "morning sickness" is misleading, as this queasiness can occur in the morning, afternoon, evening, or middle of the night. Instead of calling it morning sickness, in our practices we refer to it as pregnancy-induced nausea (PIN). The intensity and duration of PIN is as individual as a mother's weight gain. For most women, it seems to peak at four to seven weeks.
Morning Sickness Is Caused By Pregnancy Hormone Side Effects
Mood swings? Fatigue? Blame your hormones, specifically, human chorionic gonadotropin or HCG. This hormone that supports your pregnancy also unsettles your stomach.
Like all drugs, pregnancy hormone side effects can be very unpleasant; the most notable being intestinal upsets. When levels of the hormone cholecystokinin increase in pregnant women, it increases the efficiency of digestion by making better metabolic use of food within your system.
The unpleasant side effects contribute to: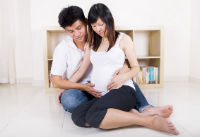 Low blood sugar
Nausea
Dizziness
Delayed emptying of the stomach
After-meal sleepiness
Relief Should Come Soon
Rising estrogen and progesterone levels also contribute to nausea by their direct influence on intestinal hormones. But by the end of the third month, when the blood level of some of these hormones levels off or starts to decline, so do the intestinal maladies caused by these hormones.
Got a Double Dose?
If you are carrying twins, you will have a double dose of morning sickness. This is because you are producing more hormones and may feel "more pregnant" than a mother growing just one baby.
Mental Relief for Morning Sickness
Relax! Studies show that the high levels of pregnancy hormones that contribute to nausea also suggest a well-implanted embryo. In fact, the more nausea a mother has, the more likely she is to deliver a healthy baby. (Many moms go through the nine months without any nausea and have healthy and happy babies, too.)
Take comfort in these two universal facts about morning sickness: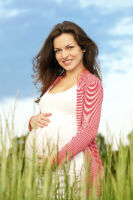 1. You Are NOT Alone.
Most pregnant women have morning sickness during the early months of pregnancy. In fact, around 80 percent of pregnant women experience nausea, retching, vomiting or all of the above at some time during their pregnancy.
2. This Too Shall Pass!
Usually after the third month, the daily bouts of nausea and queasiness subside and give way to a healthy appetite. Many mothers are rewarded with "well windows," hours of the day or days of the week when they feel well enough to function normally. As your pregnancy progresses, the good days will get better.
Morning Sickness Articles