How Sex in Late Pregnancy Changes
Your sex life changes again in late pregnancy. In the third trimester a woman is often preoccupied with her imminent birthing and mothering role.
Her husband may find that his own feelings are undergoing a metamorphosis; his wife's body is not just exciting and different – it is the harbinger of imminent change. Women focus on birthing and nurturing the baby; men focus on their new roles as father and (at least temporarily) sole breadwinner.
Your mate may be worried that he's losing you to motherhood. Both of you may experience ambivalence about the changes ahead.
All these anxieties can get both your minds temporarily off sex in late pregnancy.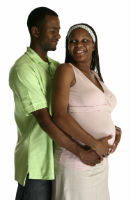 Things Will have to Change a Bit
Nevertheless, couples do engage in sex in late pregnancy. As you grow, your sexual relations will out of physical necessity become more creative. Desire can be the mother (or perhaps, in this case, the father) of invention.
You will have to experiment with workable and comfortable positions for intercourse. The man-on-top position is usually the most awkward –- it is difficult, literally, to get over the hump – and least comfortable; penetration is deepest in this position and the man's weight on the woman's abdomen and breasts, while not harmful for baby, is uncomfortable for mother. Besides, in the last few months, women are often uncomfortable lying on their backs for anything.
Experiment with these alternatives that allow the woman to control the depth of penetration and the amount of weight she bears.