Dealing with the Side Effects of Pregnancy
The changes happening in your body during pregnancy can produce some uncomfortable side effects. Side effects of pregnancy such as hemorrhoids, shooting pains in your back and legs, and varicose veins are experience by many women. Learn what to expect with these physical changes and how to treat them.
Hemorrhoids
Hemorrhoids are one of the common side effects of pregnancy for many women. Try treating them with these tips below: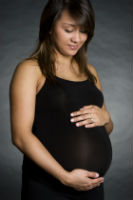 Apply cool or cold compresses: crushed ice in a clean sock will shrink the vessels and alleviate the pain. Lie on a thick towel to keep water from soaking your sheet.
To relieve itching, take a short soak in a warm bath to which a half-cup of baking soda has been added. (While warm water can soothe an itchy bottom, it can also dilate blood vessels and further aggravate bleeding, so don't stay in more than a few minutes.)
Place a cotton ball or gauze pad soaked in cool witch hazel (or any other medicated pad recommended by your healthcare provider) against the hemorrhoid to help shrink it and ease the discomfort.
If you must sit on a very sore bottom, buy a rubber donut to place on your sitting surface. Yet some women find the donut aggravating by putting pressure on the buttocks. Alternately, sit on a pillow, or lean to one side while sitting.
Check with your doctor before using an over-the-counter medication as some of these can be absorbed through the rectal tissue and into the bloodstream, yet there is little evidence that these ointments are dangerous to baby.
Shooting Pains in Lower Back and Legs
Another of the side effects of pregnancy you may experience are occasional shooting pains, tingling or numbness in your lower back, buttocks, outer thighs or legs. These occur when relaxing pelvic joints, the baby's head (or your enlarging uterus) presses on the major nerves that run from the backbone through the pelvis and toward each leg.
Sudden, sharp pain that begins deep in the buttock on one side and travels down the back of that leg is due to pressure on the sciatic nerve in your lower back, hence its name sciatica; it is aggravated by lifting, bending or even walking.
Tingling numbness and pain along the outer thigh is caused by stretching of the femoral nerve to the leg. Rest and a change of position that shifts the pelvic pressure away from these nerves should alleviate the pains.
These painful side effects of pregnancy can be very debilitating for some women. They are so variable from woman to woman because of individual differences in pelvic bone structure and shape.
Enlarging Veins on the Legs, Vulva, Rectum, Neck (or Anywhere)!
Varicose veins are just another of the many side effects of pregnancy. The hormones of pregnancy relax the muscular walls of veins, causing them to enlarge. These vessels need to expand to accommodate the extra blood volume of pregnancy.
Legs are particularly likely to host varicose veins because the expanding uterus presses on the major blood vessels beneath it, and this puts pressure on the veins of the pelvis, sometimes causing blood to pool in the legs.
Hemorrhoids are a type of enlarged vein, and you may notice bulging veins along your vulva. Whether or not you develop varicose veins during pregnancy is mostly a matter of heredity.
If you notice that an area around the visible veins of your lower leg has become increasingly painful, red, swollen, warm or tender, a vein may have become infected; a condition called thrombophlebitis, which is very serious; elevate your leg and notify your healthcare provider.