How to Survive and Thrive During the First Trimester
It is with much excitement and joy that I announce the upcoming arrival of Sears grandkid number 15! My husband John and I could not be happier. Now, you may think that growing up "Sears" I would feel prepared by default, however, this new journey so far has been quite enlightening. I have tapped into the wonderful foundation that my family instilled in me, yet still, the overwhelming feelings of "I have so much to learn" have definitely crept in. At the center of my first-trimester survival kit has been my Dad's advice, "Find what works for you." This miraculous new stage of life has displayed a range of emotions: Elation, joy, peace, fear, insecurity, and most importantly, sense of purpose.
Change Your Mindset
I'm grateful for my training/exposure as a L.E.A.N. Expectations Coach through the Dr. Sears Wellness Institute, and of course my parents' book The Healthy Pregnancy Book, however, I really love experiencing the beginnings of mother's intuition to find what's right for me and my growing baby. The center of everything for me has been a positive mindset.
Weeks 6-12 were rough! I remember thinking to myself, "Mom did this seven times on purpose?" Thankfully, those icky weeks are already fading out of memory as I enter week 14! I connected with a mantra that I used especially on those days that seemed impossible.
Breathe in "healthy life".
Breathe out "peaceful mind".
First Trimester Tips and Advice to Remember
Focusing on the precious miracle of life that was forming in me definitely kept me going! Here are my other top tips:
Nap whenever possible. Even a 15-20 minute cat nap during a lunch break can help.
Letting "Superwoman" take a break. Order take out, let the house be a little dusty, or put the extra projects on hold temporarily.
Stay connected to your primary purpose. Set up a stress-free environment for you and baby to grow a healthy little bundle. Ask yourself, "What has to be done today, and what can wait?"
Take it one day at a time. Each day will bring different physical and emotional experiences.
Smelling peppermint essential oils helps to stay calm and settle the tummy.
Tell a few close friends and family members so they can share your joy, and support you through the challenging days of the first trimester.
Let's Talk Food
Again, my biggest piece of advice is to tune into your body and find what works for you, and just do your best to get in those nutritious foods. Dr. Bill explains the medical benefits to nutrition here. Every woman experiences morning sickness at different levels. Which by the way, raise your hand if "morning" sickness lasted most of the day, ME! I had a real challenge balancing what I knew I should eat with what I was actually capable of eating. For instance, I am a real health nut, and usually eat my 5 servings of veggies everyday……well, veggies were just NOT happening some days. Most importantly, eat every 2-3 hours ( I learned that the hard way!)
Healthy Foods that Help Combat Morning Sickness during the First Trimester
Have a rice cake or a few crackers by your bedside to help settle your tummy before you get out of bed
Watermelon, mango, grapes
Oatmeal (steel cut is best) or whole grain cereal with a little nut butter, banana, and cinnamon
Scrambled eggs with grated parmesan cheese
Coconut water
Whole milk Greek or Icelandic plain yogurt with fruit (freeze for an hour if you're craving ice cream!)
Sweet potatoes
Lemon ginger lozenges (Traditional Medicines has a great one), and ginger tea.
Almonds/cashews
Veggie soup
Coach Erin's Superwoman Smoothie
Here is a great recipe for a nutritious smoothie when you don't feel like eating solid foods:
1 cup plant-based milk (calcium)
1/2 cup organic Greek Yogurt or kefir (probiotics, fats, protein)
1/2 or whole frozen banana depending on size (potassium )
1 cup spinach (iron)
1/2 cup frozen organic blueberries (antioxidants)
1/2 to 1 inch of fresh sliced ginger (anti-inflammatory and anti-nausea)
1 serving multi-nutrient plant-based protein powder.
1/2 teaspoon cinnamon (helps stabilize blood sugar)
Salad tip: I totally lost my craving for salads for about a month (so weird!), however, I found salads from a salad bar like Whole Foods a lot more appealing. Panera's green goddess cobb (no bacon) was still delish! So get creative and really try to sneak in some veggies.
Movement tip: I completely understand the dilemma of wanting to get out and move, but NOT feeling like it's possible. The reality is that some days it may not be. Movement actually can help nausea, and it boosts those happy hormones! During my first trimester, there were only a couple of days where I had to force myself to go teach my yoga and fitness classes, and I always felt better after. I'm grateful that it's my job or I may have been tempted to skip quite a few times.
Poses/Stretches for a Developing Pregnancy
With that being said, I implore you to embrace the phrase "mindful movement". I had to manage my expectations and scale back as needed. Again, it's about listening to your body. I encourage you to find a form of movement that helps you feel like the goddess that you are! For me, it's Yoga, Pilates, and Zumba. Check with your doctor first to ensure you and your baby's safety.
Downward Facing Dog: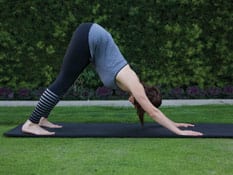 Warrior II: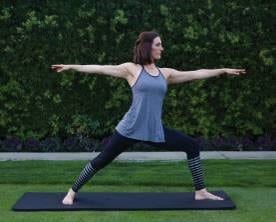 Bridge: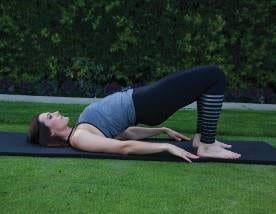 Cat: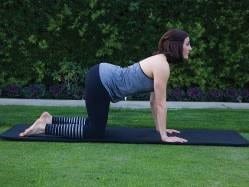 Cow: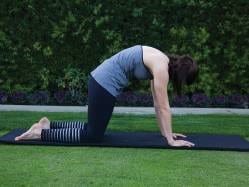 Child's Pose: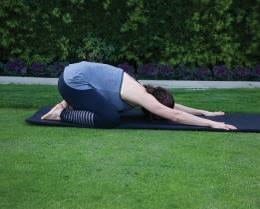 New to Yoga? Try a beginners class, gentle Yoga, or prenatal Yoga. Another one of Dr. Bill's top movements for pregnancy is swimming.
Breathe, believe, and embrace this experience. Healthy mind, healthful mom, healthy baby.
Light and love,
Coach Erin