When to Size Up in Diapers
One of the first things you learn as a new parent is how to change a diaper. Not before long, you become a diaper-changing expert. The next type of diaper change you should be aware of is changing diaper sizes.
You may have noticed your little one has gotten a bit bigger. You're wondering when is the right time to move from newborn diapers to size one, two, three, and above. Here are a few signs I recommend parents look out for to help them know when it is time to move on up:
Butt Coverage.  Are you noticing your baby's diaper doesn't appear to be covering their bottom as much as it has previously? The right amount of coverage is very important when it comes to a diaper's ability to function effectively and eliminate leakage. If this sounds familiar, try going up a size.
Tabs are getting further from the stomach. If the diaper tabs are closer to the baby's hips rather than their center or the wing that connects the tab appears overly stretched, then it is time to try the next size up.
Tight waistband. The baby's waistband is the easiest way to check the tightness of the diaper. Use your finger to pull up slightly on the waistband. If you feel tight constriction on your finger, it's likely the diaper is too small and is most likely uncomfortable for your baby.
Red marks. Red marks due to chaffing in the groin, hips, and waist could be another sign that the diaper is fitting too tightly. You may want to give another size a go.
Check the size guidelines. The size guidelines on the side of your diaper package typically list the recommended weight for a baby wearing that diaper. If your baby's weight is on the lower end of the scale for the next diaper size up, then it is probably time to make the jump.
If You Suspect It, Size Up in Diaper Size!
Babies are constantly growing and can change diaper sizes a lot quicker than you might expect. If you start to suspect a size change is due, go ahead and give it a go and if they seem too big just store the diapers for future use. Trust me, you will use them at some point with your growing baby. If you find that baby has grown faster than you thought and now have too many diapers in too small of a size, you can always donate them to a local diaper bank to help parents in need.
I recommend Huggies Little Snugglers Diapers for their proven track record of keeping your baby's skin clean and healthy. They come in seven sizes, Preemie to size 5, so they are the perfect option for a growing baby.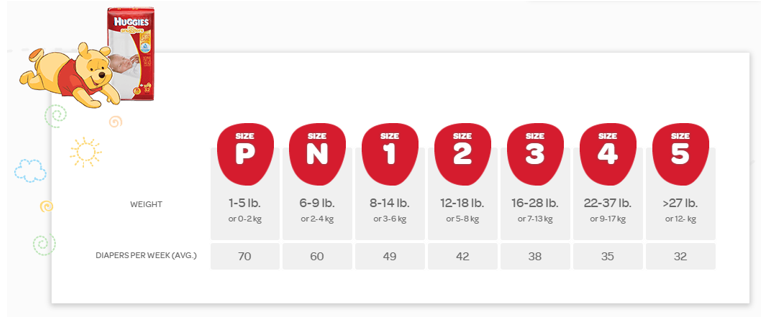 It is exciting to watch your babies grow! I hope these tips will help you make sure their diaper size grows along with them.
Note: This article is sponsored by Huggies®.  Dr. William Sears is a proud member of the Huggies Parent Council. Huggies® believes deeply in the Power of Hugs. The simple, loving act is proven to support babies' emotional and physiological well-being. Huggies® diapers and wipes are inspired by a parent's hug, – to nurture baby with care, cradle baby in comfort and surround baby in protection. Huggies® Little Snugglers Diapers deliver the best skin care to keep baby's skin clean and healthy. Learn more at Huggies.com. #HuggiesCouncil
Related article: 5 Ways to Set the Stage for Mindful, Supportive Diapering

Dr. Sears, or Dr. Bill as his "little patients" call him, has been advising busy parents on how to raise healthier families for over 40 years. He received his medical training at Harvard Medical School's Children's Hospital in Boston and The Hospital for Sick Children in Toronto, the world's largest children's hospital, where he was associate ward chief of the newborn intensive care unit before serving as the chief of pediatrics at Toronto Western Hospital, a teaching hospital of the University of Toronto. He has served as a professor of pediatrics at the University of Toronto, University of South Carolina, University of Southern California School of Medicine, and University of California: Irvine. As a father of 8 children, he coached Little League sports for 20 years, and together with his wife Martha has written more than 40 best-selling books and countless articles on nutrition, parenting, and healthy aging. He serves as a health consultant for magazines, TV, radio and other media, and his AskDrSears.com website is one of the most popular health and parenting sites. Dr. Sears has appeared on over 100 television programs, including 20/20, Good Morning America, Oprah, Today, The View, and Dr. Phil, and was featured on the cover of TIME Magazine in May 2012. He is noted for his science-made-simple-and-fun approach to family health.