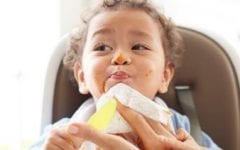 Note: This article was written by Dr. William Sears and sponsored by Huggies®.  Dr. Sears is a member of the Huggies Parent Council.
Most pediatricians and parents would agree, baby wipes are a staple of baby care and should be used at every diaper change no matter what – even if it's just a little tinkle. As a parent you are probably using them for everything from diapering to cleaning faces, fingers and even toes! But baby wipes have a whole host of other uses for baby and parents alike that you might not have thought of yet. Here are some tips to make sure you're ready to wipe out any mess life throws at you:
Tip #1: Pack Wipes for Outdoor Activities
With the arrival of fall you will be participating in a whole array of outdoor activities including, pumpkin and apple picking, tailgating and enjoying fall treats picnic style. It's always a good idea to pack some baby wipes for the whole family to use in the great outdoors. Baby wipes are a great option for cleaning off fingers and faces post caramel apple or tailgating chips and dip consumption. They are also a solid choice to clean dirt off freshly picked pumpkins before bringing them home.
Tip #2: Keep Wipes in the Playroom
Keeping the playroom clean can often be a bit of a struggle, particularly when the toy your baby has their eye on is all the way at the bottom of the toy chest. While you may feel like you can never quite get all the toys back where they belong, you can take some comfort in knowing they are clean and ready to go for their next playtime adventure. I always think it is a good idea to keep a tub of wipes within reach in the playroom for wiping down everything from fingers to toys to play mats to craft tables. Wiping as you go will help you feel comfortable about what your baby comes in contact with each time they engage in their favorite playtime activity.
Tip #3: Wipes are an Essential for On-The-Go Activities
As a parent you are an inherent master of multitasking, often bringing baby along on all of your daily adventures. From the grocery store to lunch with friends, your baby will come in contact with a lot of surfaces that might be suspect. Keeping a soft pack of wipes in your purse or a Huggies Clutch N' Clean hooked on your diaper bag is an essential for on-the-go. Use your wipes to wipe down the inside of your car before you travel, restaurant tables and high-chairs, and the grocery cart handles prior to shopping.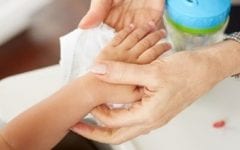 Regardless of how you plan to use them, you are going to need a good wipe and a lot of them. Huggies Natural Care Wipes are our wipes of choice because they don't have harmful ingredients and are formulated with 99 percent purified water and just a touch of Aloe and Vitamin E for replenishing sensitive skin. They are also dermatologically-tested and hypoallergenic. I use them myself and on my 13 little grandbabies. Plus, they come in a variety of portable designs allowing you to tackle any mess on the go.
Using baby wipes such as these can help prevent skin irritation for you and your little one and will help keep everyone clean, happy and healthy.
Huggies® believes deeply in the Power of Hugs. The simple, loving act is proven to support babies' emotional and physiological well-being. Huggies® diapers and wipes are inspired by a parent's hug, – to nurture baby with care, cradle baby in comfort and surround baby in protection. Huggies Natural Care® Wipes feature our simplest formula ever for a gentle clean. Learn more at Huggies.com #HuggiesCouncil