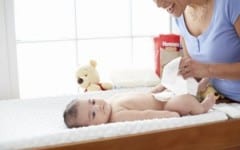 Note: This article first appeared on BabyCenter's Blog here, as a Featured Expert post written by Dr. William Sears and sponsored by Huggies®. 
Nothing is more important than the health of your baby, so it's natural to worry when something unfamiliar appears – that's a parent's instinct. The more you know and learn about baby's skin, the more happy time with baby and less worry.
As a practicing pediatrician, I have examined a great deal of rashes on little baby's bottoms, and a worried parent often wonders if it's caused by the products they're using. Maybe the diapers, the wipes, or even the diaper creams are causing this? In my professional opinion, more often than not, it's not due to the products you are using – every baby is different. Baby's skin is extra sensitive and a lot of factors can contribute to a rash or outbreak on their little bottoms. Rashes can happen for a variety of reasons, for instance changes in food, skin sensitivities or allergies and hot temperatures. So, to help ease parents' qualms, and dispel a few common myths, I have put together my top information on skin health and essential products tips for maintaining baby's delicate soft skin.
Myth #1: Diapers cause rash
Start with ultra-sensitive skin, add the chemicals and moisture of urine and stools, cover the area with a diaper that rubs back and forth, and you have diaper rash. This damaged skin is susceptible to the invasion of bacteria and yeast, which can make the rash worse, but the diaper alone itself is not the cause, it is all of the above. Having a diaper rash is a normal part of being a baby. There are many ways you can limit the amount of rash, but from time to time it will flare up again.
Tips:
Change diapers frequently: Change diapers at least every two hours in newborns. You can space this out as baby starts to urinate less often.
Change poopy diapers right away: This is a lot of trouble at first since newborns often have small, frequent stools. This will slow down as baby grows.
Test diapers out: If using disposables, a diaper made for movement may fit a little better and cause less friction. I would also consider a brand that absorbs and whisks away that moisture that is helping to cause a rash. I use Huggies on my grandkids for this reason.
Rinse cloth diapers: Add a half-cup of vinegar to the rinse cycle. This helps remove alkaline irritants. Your diaper service can also do this.
Diaper rash cream: Some lucky babies don't need any. More sensitive bottoms need cream with each new diaper. There are two basic types of barrier creams:

Petroleum ointment (Original A & D ointment) – this is an excellent preventative every-day ointment. It's less sticky and less messy.
White zinc oxide – this is thicker and may be better for babies who are more prone to rash.
Myth #2: Wipes Can Dry and Irritate Skin
All baby wipes are typically made with the same materials. The few common components include materials for strength, softness and ingredients for a gentle clean.  When choosing a wipe, make sure you look for a brand that is alcohol-free so that it doesn't dry or sting skin and that is paraben-free and free from potential irritating preservatives such as MI. I like Huggies Natural Care Wipes because they don't have those ingredients and are made with 99% water with a little Aloe and Vitamin E for replenishing sensitive skin. They also are dermatologically-tested and hypoallergenic – I use them myself on my 11 little grandbabies. Using baby wipes like these can help prevent skin irritation for your little one.
Tips:
Wipe well: Be sure to wipe all the stool and urine away.
Use wipes with NO alcohol, parabens or MI: these are the most gentle for baby's sensitive skin.
Air dry: To alleviate extra moisture before putting on a new diaper, allow baby's bottom to air dry for 15-30 seconds after wiping
Storage: Ensure your wipes are properly stored out of baby's reach, at room temperature and with the lid or seal tightly secured for the best possible care.
Myth #3: All rashes on baby's bum are diaper rash
While diaper rash comes in all shapes and sizes, there are rashes that may appear on baby's bottom that are caused by more than just friction from the diaper and moisture from baby. It's also important to note that none of the diaper rashes discussed below are so serious that they warrant an urgent call to your doctor in the evening or overnight. They generally can wait to be evaluated and treated by your doctor's office the following day.
Tips:
Impetigo: A bacterial infection of the skin that can occur just about anywhere, but is most common around the mouth and nose or on the buttocks and arms. It begins as tiny red spots, which become blisters that rupture and produce an oozing, sticky honey-colored crust on the surface. The spots are circular and may be as small as a dime or as large as a quarter. To help relieve the rash, use prescription antibiotic ointment as well as general measures, like using an unscented gentle wipe as well as air drying baby's skin.
Intertrigo: This is a specific rash that occurs within the skin folds and creases around the diaper area where the skin rubs together. Heat and moisture mixed with urine cause a red, burn-like appearance. Use a regular white petroleum diaper ointment to treat.
Yeast Rash: When the skin is damaged, yeast from the intestines can invade the skin. This especially occurs with antibiotic use or prolonged rash. It is a red, raised, patchy rash with sharp borders, mostly over the genitalia but with satellite spots sprinkled around the diaper area. Visit your healthcare provider for the right diagnosis and treatment ointment.
As a father of 8, I have cleaned and diapered a lot of baby bottoms over the years, so I hope these tips have helped answer and ease any questions or concerns you may have when it comes to keeping your baby healthy and happy.
For over 40 years Dr. William Sears has advised busy parents on raising healthier families. As a father of 8 children, he and his wife Martha have authored dozens of popular books and countless articles on parenting and childcare, and his AskDrSears.com website is one of the most popular health and parenting sites.  He is noted for his science-made-simple-and-fun approach to family health and is a trusted partner and consultant for the Huggies brand.
Our simplest formula ever made, Huggies Natural Care® Wipes provide a soft, sensitive clean for baby's delicate skin. Made with 99% water and Triple Clean* layers, they are gentle on baby's skin, yet thick enough to clean their hands, faces, and all the way down to their bottoms! Available in Huggies® Designer Tubs and Huggies® Clutch 'n' Clean* refillable wipes, visit the Huggies website for more information.