How a Sinus Infection in Pregnancy Develops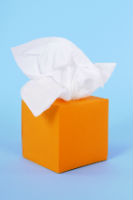 The mucus membranes in the nasal passages of the sinuses often swell and become congested during pregnancy, probably due to the same hormones that cause vaginal membranes to become congested.
Some women feel they have a persistent "cold" or sniffles throughout pregnancy. These conditions often lead to a sinus infection in pregnancy.
Like Water in a Stagnant Pond
Because the sinuses are an extension of the nasal passages, nasal congestion can lead to sinusitis. Swollen nasal membranes trap secretions in the sinuses, and fluid that can't drain, like water in a stagnant pond, becomes infected.
Signs that you may have developed a sinus infection are: feeling of fullness or pain in the sinuses, alongside the nose, or over the eyebrows; snotty nasal discharge, increasing tiredness, or feeling that you have a cold that just won't go away.