Getting Help from a Labor Support Person
Most dads aren't cut out to be labor coaches. So, who provides the missing link? Consider a labor support person. This woman, and probably a mother herself, brings the relaxed, natural approach of the midwife to a traditional hospital birth.
Her presence means a mother does not have to rely solely on her husband for help in dealing with pain – she can instead enjoy his emotional support and love at a time that is special, but stressful, for them both.
Though a friend can certainly be a labor support person, mothers typically have the best results when they hire a professional labor assistant (or PLA, also called a labor support doula or a monitrice).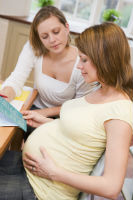 Benefits of Getting Labor Assistance
PLA provides comfort and companionship to the laboring mother.
PLA has special obstetrical training, either as a midwife, obstetrical nurse, or educated laywoman
Her knowledge of and experience with birthing, and her sole focus on the mother's needs make her a unique and, to our minds, indispensable part of a hospital birthing team.
The PLA coaches, counsels, supports and anchors a laboring woman, helping the process move more quickly and comfortably.
She, along with the hospital staff, acts as an advocate for the parents' wishes, freeing mom and dad to focus on the labor and impending birth.
Woman-supported labors are shorter (by as much as 50 percent) and more natural than non-supported hospital labors. (In one study 18 percent of unsupported but only 8 percent of mothers that received labor support had cesareans; fewer supported mothers had epidurals, episiotomies and perineal tears.)
PLA's are often instrumental if mothers choose to avoid interventions (such as I.V.'s, epidurals and internal fetal monitoring).
PLA's are especially valuable in high-risk pregnancies where the necessary use of such technology makes natural methods of pain control much harder to use.
The downside of using a PLA, is you may end up paying for this service yourself – fees ranging from $500 to $700. Negotiate with your insurance carrier if you can, but don't hesitate to take the money out of savings if you have to. Your hospital or obstetrician may have a list of PLA's for you to call, but most mothers find their PLA's through childbirth educators, local La Leche League groups, and the recommendations of friends.
A Resource for PLA's
Doulas of North America (DONA), PO Box 626 Jasper, IN 47547; (888)788-DONA Fax: (812)634-1491; Doula@DONA.org