5 Steps to Track and Prevent Allergies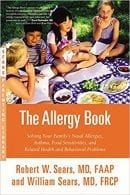 Now we're ready to really get down to business. The following 5 steps will help you determine what's causing the allergies and how to prevent exposure to the allergens.
Step 1 – Determine When and Where the Allergy Symptoms are Occurring
Nighttime and upon waking – if your child seems to be fine during the day, but has allergy symptoms during the night and wakes up with severe symptoms in the morning, then you can suspect that your child is allergic to something in the bedroom. The most common bedroom allergens are dust, mold, and bedding. See below for prevention of dust, mold and other bedroom allergies.
Seasonal allergies – if your child seems well all year, but suddenly develops allergy symptoms during a particular season (usually spring), or seems to have symptoms only on windy days, then your child probably has allergies to particular pollens or plants that are prevalent during that season. These can cause symptoms during the day or night or both. See below for prevention of seasonal allergies.
School allergies – if your child only experiences symptoms at school or daycare, but is generally well at home and during the night, then the allergen is probably something at school. See below for school allergy prevention.
Year-round allergies – if your child has allergies all year long, then the culprits could be any of the above as well as other common causes such as pets, smoking, foods, or dairy products.
Friend's or relative's house – if you notice that your child only has symptoms at other people's house but not at school or your house, then he may be allergic to something unique to that house such as smoking, pets, plants or grass. The simple solution to this is either to not go there or give an antihistamine before going over.
Step 2 – Understanding the Different Allergens and Where They Can Be Found
After tracking down the most likely suspected allergens in step one you hopefully have an idea what your child may be allergic too and where the allergens are found. Now you need to understand more about those specific allergens. Step three will teach you how to prevent exposure to these allergens.
Pollens – these are tiny, dust-like, yellow seeds that are found in the middle of flowers. The wind picks up pollen and it floats around in the air, sticking to anything it touches such as hair, clothes, and inside your child's nose and lungs. Local weather organizations measure the concentration of pollens in the air on a daily basis, known as the pollen count. Daily pollen counts are available in newspapers and online. You can click here to go to the National Allergy Bureau (AAAAI) website for pollen counts.
Dust – dust itself does not cause allergies. It is actually dust mites, microscopic organisms that live in dust, that cause the allergies. The dust mites excrete tiny pieces of feces that float around in the air just like pollen. It is the feces of the dust mites that get inhaled and cause allergy symptoms. Dust mites live wherever you find dust, and they thrive especially in warm, humid environments.
Mold – this is another source of allergies that can be found throughout the house. Molds thrive in dark, cool, damp places. Molds release spores into the air, which are then inhaled and can cause allergies.

Cigarette Smoke

 – exposure to second-hand smoke is one of the most ignored and preventable causes of allergy symptoms and asthma. The best way to prevent this is to stop smoking altogether. When this is not an option for the smoking family member, here are some precautions you can take:

Never, ever, ever, never, ever smoke around the child. This includes inside the house, in the car, and outside near the child.
Never smoke alone in the house or car – even when the child isn't home, the smoke can linger for hours to days, and the child will constantly be inhaling the residual smoke that can permeate the whole house when he is home. Smokers can't smell the residual smoke because they are used to it. But just ask any of your non-smoking friends – they will usually tell you your house has a very strong smoke odor.
Smoke outside away from any open windows so the smoke doesn't blow into the house.
Smoke where it is windy so that the smoke will cling less to your clothes and hair, which also can irritate your child.
If breastfeeding an infant, have a "smoking long-sleeved shirt" which you put on while smoking, then take off again so the smoke doesn't linger on your clothes.
Relatives – when smoking relatives come to visit, remember, this is YOUR house. You make the rules. Tell them to smoke outside. For an in-depth discussion of the harmful effects of smoking around children click on smoking

Pets – it is not actually the pet hair that causes allergies, it is the pet dander – tiny flakes of skin mixed with saliva that shed off animals and float around in the air. Cats, dogs, and birds all shed dander, even shorthaired pets. The urine of rodents can also be allergenic. Reptiles and fish don't shed dander.
Grass – some children will be allergic to a specific type of grass. This is often caused by direct contact or playing around the freshly mowed grass.
Cosmetics – perfume, hairspray, makeup powder, baby powder, and strong-smelling deodorants can be irritating to a baby and child. Avoid these.
Dairy products – this is another easily identifiable and preventable cause of allergies. Two common situations often occur:

Your 15-month-old, who has never really been sick, has had nasal symptoms and coughing for the past few months. You can't think of any new foods she is eating that may be causing allergies. Yet, your infant recently began drinking cow's milk. Allergy to dairy products may be the culprit.
Your 5-year-old has had mild allergies all his life, and you've never really made any effort to investigate them. When asked if he likes milk, you answer, "Yes, he loves milk! He drinks a ton of it every day!" This may include yogurt and cheese as well. Click on milk allergies for more information. If you think this may be the cause of your child's allergies, try taking her off all dairy products for 2 to 4 weeks. Substitute with soymilk if you need to, although children can go without any milk-type product for a few weeks without compromising their health. Some kids may also be allergic to soy.

Formula allergy – if you notice your infant developing allergy symptoms, and she is on formula, consider changing to another type.

If using a cow's milk formula, change to soy.
If using soy formula, change to cow's milk formula.
Allow two weeks for symptoms to improve.
If this doesn't work, try changing to Carnation good start or a more specialized hypoallergenic formula such as Nutramigen, Allimentum, or Pregestimil. Click here for more information on formula.
Step 3 – Preventing Exposure to Specific Allergens and Allergy-Proofing Your Home
In steps one and two; hopefully you have narrowed down the cause of your child's allergies. Step three will help you focus on certain areas of your child's daily life to minimize the exposure to the suspected allergens.
Allergy prevention is a very tough job. As you study the following material, consider just how troublesome your child's symptoms are. For mild allergy symptoms that don't interfere with daily life, most of these preventative steps are not reasonable. If your child has year-round allergies that occur night and day, wherever he is, then you have a tougher job ahead of you. You may choose to consult with an allergist for skin testing that will help you determine specifically what your child is allergic to so that you can focus your attention on preventing those allergies. Try the following preventions in hopes of finding the allergens that affect your child.
Seasonal Allergies and Pollens – if you suspect that your child has seasonal allergies due to pollens, here are the steps you can take to minimize the exposure:

Stay indoors on windy days of the pollen season and when the pollen counts are high.
Don't allow your child to play in fields with flowers and tall grass.
Keep all the windows and doors closed during your child's specific allergy season. This keeps the pollen out.
Wash hats and jackets more frequently during pollen season.
Give your child a bath and wash hair before bedtime to get the pollen out.
Don't hang-dry your child's laundry outside as it can pick up pollen.
Install a special filter into your central heating and cooling system that cleans the air as it comes in from outside. You can buy these from a hardware store.
Buy a portable HEPA filter – High-Efficiency Particulate Accumulator filters can remove dust mite droppings, pollens, molds, spores, animal dander, and many other irritants. They cost $100 – $200. Place it in the main living area of the house during the night to clean the air while you sleep. Then run it in the bedroom during the afternoon so the air will be clean while you sleep.
Pollen counts are usually highest during the late morning and early afternoon. Limit outside playtime to early morning, late afternoon and evenings during allergy season.
Put window air conditioning units on recirculate to keep out the outside air.
Keep trees and bushes near the house well pruned to avoid heavy vegetation.

Dust Mites – if you suspect your child may be allergic to dust mites, here are a number of steps you can take in the bedroom to minimize the exposure. Warning – eliminating sources of dust in your child's environment can be very costly and time-consuming. The following steps are divided into several different categories based on convenience and cost. We suggest you start with the easiest and least expensive measures and then proceed to the more costly and difficult items. LEAST EXPENSIVE AND MOST CONVENIENT

Take all of the following dust-attracting items out of the bedroom:
Stuffed animals – you can wrap one or two favorites in a bag and place them overnight in a freezer once or twice a week to kill the dust mites
Books on bookshelves
Piles of clothes
Down comforters or feather pillows – pillows filled with synthetic stuffing collect much less dust
Upholstered furniture – plastic, wood, metal or vinyl furnishings don't collect dust
Stacks of boxes
Items stored under the bed
Wool blankets – synthetic or cotton blankets are less dusty
Heavy drapes and horizontal blinds – roll up or fold up shades or vertical blinds are preferable
Electric fans – these really collect dust
Large house plants
Wash blankets, sheets and pillowcases in hot water (at least 130 degrees) once a week to kill the mites. Use synthetic pillows that can be washed monthly and replaced yearly.
Place cheesecloth over vents in the bedroom (and throughout the house if able) to catch dust. Change the cloth every few months when using the central air or heating. You'll be surprised at how dirty it gets. Best is to keep the vents closed altogether and sealed with heavy gauge plastic.
Keep the bedroom closet doors closed and avoid storing toys, boxes, luggage or heavy coats in bedroom closets.
Damp dust when cleaning – don't forget lampshades, picture frames on the wall, the tops of tall dressers or wardrobes.
Vacuum the mattress every two weeks.

More Expensive But Still Convenient

HEPA filter as discussed above under pollen control.
Encase mattresses, box springs, and pillow with dust mite-proof zippered covers. Seal the zippers with tape. This will keep the dust mites locked in.
Buy a special filter for your central air system that will trap dust and other allergens in the air ducts.
Use a vacuum cleaner with a HEPA or other specialized filtering system that will prevent dust and other particles from spreading around the room.

Most Expensive and/or Least Convenient

Remove carpeting from the bedroom, and possibly the rest of the house. Hardwood, tile, and linoleum can be kept virtually dust-free. Use throw rugs that can be washed frequently.
Lower pile commercial carpeting can be used if needed. It is less likely to trap dust mites.
Humidity control – place a humidity gauge in the bedroom and in other rooms as needed. Molds and dust mites thrive in high humidity. Maintaining a humidity level of 25 – 40% is ideal. During hot, dry weather, run the air conditioner or humidifier, but be sure it doesn't get too humid. During humid weather, run a dehumidifier. Warning – humidifiers (cool mist) and vaporizers (hot mist) can harbor molds if not properly maintained. You can purchase a humidifier with a special filter to prevent mold and contaminants from the water from being blown into the air. They should also be cleaned at least weekly using the manufacturers recommended solution or approximately 3% bleach and water solution.
Clean out the central air ducts – this costs several hundred to over a thousand dollars to have done professionally. Do it at least every few years if not sooner.

Pet Dander – if you suspect the family dog or cat is the source of your child's misery, little Rover or Fluffy don't necessarily have to leave home for good. There are a number of steps you can take to minimize pet dander around the house.

Possible allergenic pets include:
Before buying a pet, take a test drive for a few days while letting child and pet play frequently together. Emphasize that you are only "babysitting" the pet so your child isn't too sad if allergies begin and the pet has to go.
If you are unsuccessful at finding a non-allergenic pet, consider fish or reptiles. They're not as cuddly, but your child's nose will thank you.
If you already have a pet and you suspect your child is allergic, try either keeping the pet outside for a week or quarantined in a room in the corner of the house. Clean the whole house and observe your child. If allergies improve, test it by letting pet and child play together for several hours a day. If allergy symptoms start again, continue the quarantine for another week or so. If child gets better again, then your child is probably allergic. If you don't see any correlation, then it may not be a pet problem.
If you conclude your child is allergic to the pet, you can either keep the pet outside for good or find it a new home. If you absolutely must keep your pet inside, here are some suggestions to minimize your child's exposure:

Give the house a thorough cleaning to remove existing pet dander.
Keep the pet out of your child's bedroom at all times.
Keep the pet in one room as much as possible and keep this room well ventilated to the outside.
Keep the house well ventilated. Open the windows as much as possible and recirculate the air.
Use a HEPA filter as described above under pollen control.
Wash your pet frequently to minimize dander shedding.
Use a vacuum with a special filter to trap allergens.
Allergy control solutions can be purchased and sprayed onto the carpet to inactivate accumulated dander.

Molds – Like dust mites, molds often cause allergy symptoms in the bedroom, as well as throughout the house. Molds thrive in dark, cool, camp places such as:

Cellars
Closets
Attics
Piles of damp clothing or towels
Old mattresses
Pillow and blankets
Damp carpet, especially the padding underneath
Water damaged wallpaper
Window frames
Garbage cans
Shower curtains
Shower stalls
Bathroom tiles
Houseplants
Humidifiers
Outdoor sites include piles of wet grass, leaves, or wood

An environmental testing company can test your house to see if mold is a problem. In some cases, the mold is too extensive to clean up, and you may need to move. Usually, however, the company can assist you in cleaning up the mold enough to decrease your family's exposure.

Here are some tips on how to limit your child's exposure to molds in the home.

Throughout the House

Clean the above-mentioned areas routinely with a mold-killing disinfectant such as a 10% bleach solution.
Regularly inspect the above-mentioned areas around the house for signs of mold growth.
Humidity control – hang a humidity gauge in the bedroom and elsewhere as needed. Try to keep the humidity between 25 – 40%. Run a dehumidifier if needed during humid seasons. Run the air conditioning or use a humidifier periodically if needed during hot, dry weather. Humidifiers and dehumidifiers should be emptied of water frequently. Mold-killing sprays can be sprayed into air conditioning intake vents if you detect a musty odor. See humidity control above under dust prevention.
Ventilate the house by opening all the windows several times a week.
Install filters in the central air and over vents in the house as discussed under dust control.


Dr. Sears's advice:

To remove the days pollen, wash your child's hair before going to bed.

In the Bedroom

Take the same precautions with mattresses and pillows as discussed under dust control above. Foam rubber pillows and mattresses are more likely to collect mold.
Humidity control as discussed above.
Keep a nightlight on in closets. This can decrease mold growth.
Regularly clean window frames with a mold-killing solution.
Use a HEPA filter.
Wash wallpaper frequently with a mold-killing solution if using a humidifier or vaporizer.
Replace damp carpeting.

In the Kitchen

Regularly clean the bottom of the refrigerator as well as around the rubber door gaskets.
Wash garbage cans frequently with bleach.
Run the exhaust fan when boiling water.

In the Bathroom

Run the vent fan in the bathroom during showers to prevent mold growth from the humidity.
Clean shower, bathroom tiles, and toilets regularly with a mold-killing solution.
Clean shower curtain regularly and replace periodically.
Regularly wash wallpaper and replace if water-damaged.

Outside

Remove damp piles of debris from the yard.
Keep windows that are near moldy shrubbery closed.
Prune shrubbery and trees regularly to avoid shading the house too much. Sunlight helps kill mold.
Correct drainage problems. Pools of stagnant water or grass grow mold.

Allergies at School
If your child only seems to have symptoms at school, here are several items to consider as possible sources:

Pets in the classroom – often there is a class gerbil, rabbit, or other rodents. You can test this by asking the teacher to let someone take the pet home for two weeks and see if your child improves.
Dust mites and mold – the classroom can contain all the same sources of dust and mold as your house. Talk to the school principal about how to correct any possible sources.
Plants and grass – there may be specific grass or pollens present only at school. This would be difficult to prevent exposure to.
Cockroaches in lockers or other areas – children can be allergic to the feces of these insects.
If you can't eliminate these sources you may need to treat your child with medication during flare-ups.
Step 4 – Consulting Your Pediatrician
After reading step 3, you're probably ready to just forget the whole thing and let your child suffer. Don't despair! Try some of the more simple suggestions and observe your child for improvement. If you don't see any significant improvement, then it's probably time to discuss the allergies with your pediatrician.
What can your pediatrician offer you? Although your child's doctor may not be able to offer any additional advice on allergy prevention and control, he or she may be able to help you narrow down what could be causing the allergies so that you can focus your prevention on specific areas. The pediatrician can also make recommendations on treating the allergies with medication and discuss the various forms of over-the-counter and prescription allergy medication.
Step 5 – Consulting an Allergist
Do you need to see a pediatric allergist specifically, or is a general allergist adequate? Pediatric allergists are often much more difficult to find these days since most allergists need to practice with both adults and children. A general allergist is excellent for most allergy cases. If your child has very severe allergies, or an allergist is considering allergy shot therapy, we suggest you consult a pediatric allergist.
There are several services that an allergist can offer you that your pediatrician might not be able to:
Time – an allergist often has more time to sit down with you and discuss your child's allergies. The allergist may be able to pinpoint the most likely allergens that are affecting your child specifically so you can focus your prevention more precisely. The doctor can also spend more time educating you on allergy prevention.
Skin testing – an allergist's office can perform skin testing on your child to help identify specific allergens. A tiny needle is used to introduce a substance such as dairy protein or pet dander into the skin. The allergist can either do a small number of these at a time to test suspected allergens or 30 to 40 different allergens (and skin pricks) at one visit to get a more complete allergy profile. A bump will form in the skin for each test that is positive. Note – your child should be off of any allergy medications taken by mouth for several weeks prior to testing. These can interfere with the test. Advantages of skin testing:

If your child tests positive to several things, you can more accurately focus your prevention efforts at home.
It can also help you identify any hidden food allergies.
Very useful for older, more corporative children.
For severely allergic children who have not improved with a variety of home preventative measures, skin testing can be very useful.
It is more accurate than the blood testing mentioned below.

Disadvantages of skin testing:

For the items that your child shows no reaction to, this doesn't guarantee he isn't allergic to that item. A child can show no reaction, for example, to milk, but may still be severely allergic to it. The younger the child is, the more likely he will show no reaction on skin testing. Skin testing is more accurate for children over 5 years old.
It can hurt a little and is very difficult to do on uncooperative children.

Blood testing – A blood test, called a RAST test, gives similar information to skin testing, although it is not as accurate as skin testing. Antibody levels to a variety of allergens can be measured. This can be very helpful if several items come back showing high antibody levels. However, RAST testing has the same disadvantage as skin testing – a normal test can be present and your child could still be allergic to that substance. This is truer for younger children. RAST testing costs several hundred dollars or more and is often not covered by insurance. It is useful for severely allergic children who are too young for skin testing. Your pediatrician or allergist can order this test for your child.
Up to date treatments – an allergist is often more educated in the latest medications to alleviate allergy symptoms. He or she may also be more adept at using combinations of medications when needed.
Allergy shots – this is a long term, time-consuming and expensive treatment plan that involves several shots each week for the first few weeks, then slows down to one shot a week, then once or twice a month for a year or more. The whole process can take almost a year sometimes. The shots slowly make your child less sensitive to his specific allergens. This is a very aggressive, but sometimes necessary, treatment.