The Most Common Epidural Births
There are several different ways to administer an epidural during labor. See the 7 most common kinds of epidural births.
1. Continuous Epidural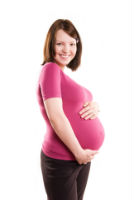 A continuous epidural means that a bedside pump continuously infuses your dura with pain-relieving medication.
The continuous epidural is the most common type of epidural births because it offers constant pain relief. Unlike an intermittent epidural (see next option), blood pressure is more stable and a lower dose of medication is needed overall.
2. Intermittent Epidural
With an intermittent epidural the medicine is injected periodically as needed, allowing mothers to juggle the level of pain they can tolerate with the degree of movement they desire.
Some mothers do not like the roller coaster effect of intermittent injections.
3. Mix and Match
The anesthesiologist can mix medicines (anesthetics and analgesics) to match the degree of sensation and movement you want, but there is no guarantee you will get the exact pain relief or movement you desire. Women react differently to pain-relieving medications.
4. Patient-Controlled Epidural Anesthesia
Patient-controlled epidural anesthesia (PCEA) allows the mother to self-regulate the amount of relief she receives by pressing a button that allows a preset computer-controlled amount of medication to be injected into the epidural tubing.
With PCEA some mothers actually use less medicine, some more, but at least you have a choice.
5. New Epidural Births
Both mothers and doctors have long dreamed of an epidural that would allow women to enjoy sensation and movement during labor, but without the pain. Dubbed "walking epidurals," these types of analgesia would allow the mother to stand, kneel, squat, and maybe even walk with support.
6. Spinal Analgesia
Spinal analgesia or a "walking spinal." The newest pain reliever in the anesthesiologist's bag of tricks is technically not an epidural, but is known as spinal analgesia or a "walking spinal."
A small amount of narcotic is injected directly into the spinal fluid (not the surrounding dura) in a small enough dose to ease the pain of labor but still allow movement. Mothers can walk with assistance, shower, sit, stand or squat.
7. Low-Dose Epidurals
Dubbed "epi-lite," these low-dose narcotic-only or combination narcotic-anesthetic epidurals are designed to relieve some of the pain of labor so an exhausted mother can at least relax enough to get a second wind for pushing.
We call epi-lite the "best of both worlds" pain reliever because it relieves much of the pain yet allows you to have some sensation of what's going on in your body and some movement during epidural births.
Considering the Pros and Cons of Epidurals
Many women want to hug their doctors for giving them epidurals during labor. The epidural has made most other methods of pain relief obsolete – and has even done away with the belief that you must experience pain to birth a baby. Yet before you grab for this magic medicine, inform yourself about the pros and cons of epidurals.
What You'll Experience
Before you receive an epidural, you will get a liter of intravenous fluids to build up your blood volume and prevent the decrease in blood pressure that sometimes accompanies an epidural. Your doctor or anesthesiologist will then ask you to sit or lie on your side and curl into the knee-chest position to round your lower back. This widens the space between the vertebrae, making it easier to find the right area for injection. As your doctor or nurse scrubs your lower back with an antiseptic solution, it will feel cold.
Next, you will feel a slight stinging sensation as the doctor injects some local anesthetic under your skin to numb the area. When the area is sufficiently numb, he or she will insert a larger needle into the epidural space and inject a test dose to determine if the needle is in the right place and ensure that you are not allergic to the medication. Once the needle is properly inserted, the doctor threads a plastic catheter through the needle into the epidural space and removes the needle, leaving the flexible catheter in place. The pain reliever you and your doctor have decided on is then fed into the catheter.
A few minutes later you may feel a shooting sensation, like an electric shock, down one leg. Within five minutes you are likely to begin to feel numb from your navel down, or you may notice that your legs are feeling warm and/or tingly. Within 10-20 minutes the lower half of your body will feel partially or completely numb, depending on the type of medicine used, and the pain of contractions will subside. The exact level of loss of sensation cannot be predicted precisely.
Most mothers experience numbness from the navel down, some experience loss of sensation as high as the nipples. A few mothers notice some patchy areas on their skin where they can still feel sensations.
The Possible Drawbacks
This is the point where most women sing the praises of the epidural, but the pros and cons of epidurals cause a woman to become more of a patient than a participant at this point. Yes, once the pain is relieved you can rest and recoup your energy. But because the lower half of your body can't move, you will need assistance changing positions. Since the sensation to empty your bladder is impaired, a nurse will insert a urinary catheter to take away urine.
The pros and cons of epidurals include more monitoring of you and baby. Because of the possibility of the epidural lowering your blood pressure, the nurse will monitor your blood pressure every two to five minute until it is stable, and then every fifteen minutes. To keep the pain relief even on both sides of your body, the nurse will turn you from side to side. To be sure baby is handling the epidural well, you will be hooked up to an electronic fetal monitor.
You will also notice that the doctor or nurse periodically rubs the skin of your abdomen, checking to be sure the drug is giving you sufficient pain relief, but not ascending high enough to interfere with your breathing. Now comes the juggling act of getting you just enough anesthetic to give you pain relief and help you manage your labor, but not so much that it interferes with your labor.