Mondays with Martha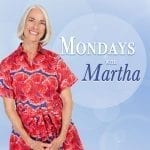 Do you ever wish you could get advice from Martha Sears? Well, now you can! She is an RN, co-author of over 25 books, and mother of eight children. Get her expertise on parenting, nutrition, breastfeeding, and much more, here on Mondays with Martha! Find the answers to your questions every other Monday on this page! If you would like to submit a question to us, follow us on Instagram (@askdrsears) and send us a direct message!
ALWAYS CHECK WITH YOUR DOCTOR FIRST
While in answering your questions, I try to personalize my answers to fit your specific needs, I don't know all the details of your situation and that of your child.  For this reason, before doing my suggestions, always check with your healthcare provider to be sure that what I advise fits the health needs of you and your child.
Mondays with Martha Articles